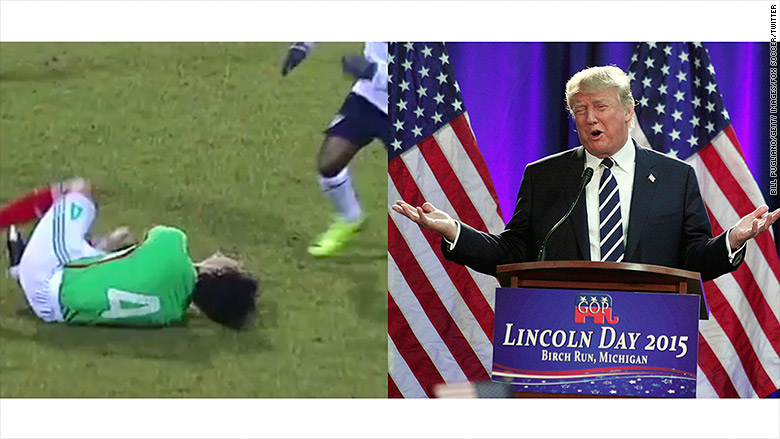 Fox Sports has come under fire for using Donald Trump's remarks about Mexicans to promote a soccer match between the U.S. and Mexican national teams.
The 30-second spot, which features excerpts from one of Trump's campaign speeches interspersed with a montage of highlights that include Mexican players getting kicked and rolling on the ground, was greeted with boos after Fox Soccer released the video on Twitter. Hundreds of Twitter users criticized the video, and many called on Fox to take it down.
While Trump's remarks about Mexicans here were positive -- "I love the Mexican people. They have amazing spirit," he says -- the ad nevertheless called to mind his more controversial claims that Mexican immigrants are criminals and rapists. Moreover, opposition to illegal immigration has been a key issue of Trump's campaign.
The promo itself was a response to an ad from last month by Mexican TV Azteca, which used Trump's controversial claims to promote the same match up. The Fox promo instead used some of Trump's positive remarks about Mexicans and his promise to "make America great again" to rally support for the American team.
"Our country has tremendous people, tremendous potential," Trump says over highlights of the U.S. team. "And these are the best and the finest. Bigger, better and stronger. And we will make America great again."
Neither Fox Sports nor the Trump campaign immediately responded to request for comment.
But the outpouring of responses on Twitter were fast and damning. Dozens of users referred to the tweet as either "offensive," "shameful" or "embarrassing," while others expressed their disapproval simply by writing, "No" or "This is wrong."
"Literally the last thing needed in international soccer right now is more xenophobia," wrote Christopher Dwyer, one of the Twitter respondents. "Why would you do this? Disgraceful."