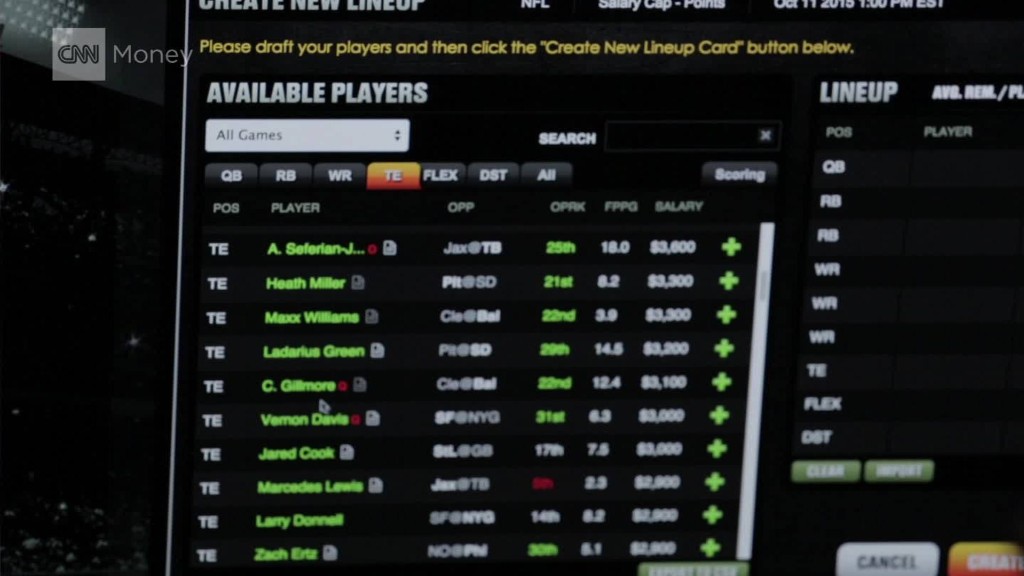 A fantasy sports player has sued DraftKings and FanDuel, claiming that he and other players were hurt because employees of the two companies used inside information to gain an edge over other players.
Adam Johnson of Kentucky, in a suit filed in New York, is hoping a judge lets him pursue a class action on behalf of other fantasy players.
The suit charges that typical fans who pay to to compete for millions of dollars in prizes are at an unfair advantage when competing against employees of the services who were also playing the games.
"The biggest edges any player can have come from having data and information. DraftKings and FanDuel employees have access to both things, neither of which is public," the federal lawsuit charges.
Related: Are fantasy sports rigged?
This week, both sites permanently banned employees from playing on any fantasy sports site. But until then each had allowed employees to play on rival sites.
It came to light recently that a DraftKings employee who had access to confidential data won $350,000 in a FanDuel contest.
Employees of DraftKings have won 0.3% of the total prize money won on FanDuel, according to FanDuel spokeswoman Emily Bass.
While FanDuel won't say how much money that represents, the site advertises it will pay $2 billion in prizes this year -- and 0.3% of that amount works out to $6 million. That $6 million figure is cited in the suit.
New York Attorney General Eric Schneiderman announced this week his office has launched a probe into the practices of the two services. DraftKings and FanDuel also announced they had hired outside firms to conduct probes of their practices and security measures.
But both FanDuel and DraftKings insist their investigations show that the employee who won $350,000 did not benefit from insider information when he won that prize.
Neither FanDuel nor DraftKings had a comment on the suit.