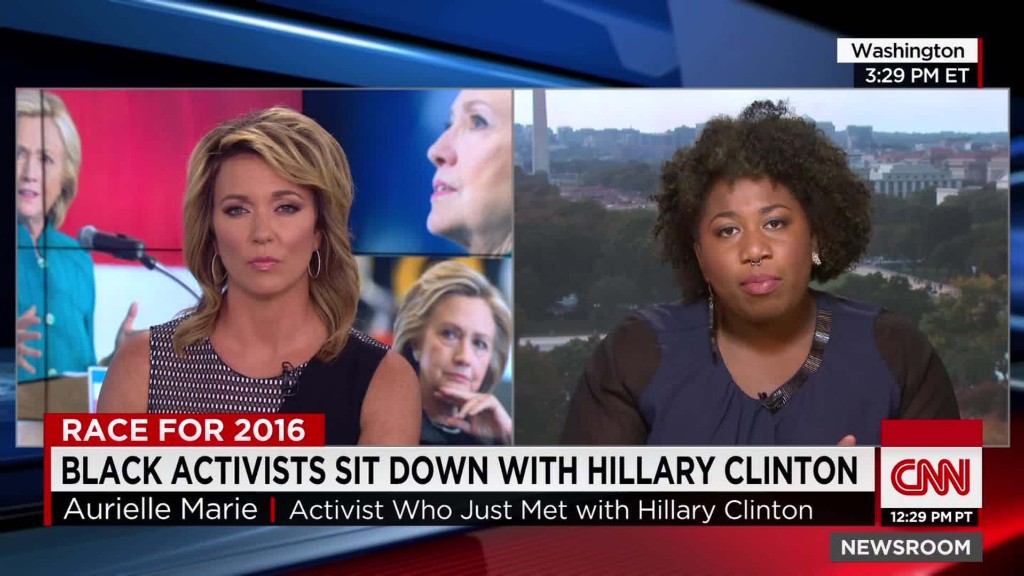 Hillary Clinton took one more step toward trying to win the black millennial vote Friday.
Clinton met with activists in the Black Lives Matter movement Friday where they discussed a range of issues, including the private prison system, demilitarization of the police and mental health services for children.
The meeting lasted 90 minutes and was attended by more than a dozen activists and Clinton campaign staff.
It was "productive," said Deray McKesson, a prominent activist. "Everybody showed up ready to have an honest candid conversation about policy and approach."
Brittany Packnett, a member of the racial and social justice group Campaign Zero, said Clinton also discussed her support for what is known as the 10/20/30 amendment to big economic stimulus of 2009.
It would direct 10% of development dollars to communities where 20% of the people in that community have been living below the poverty line for the past 30 years.
Support for that policy is critical, Packnett said, given the size of racial wealth gap: The median wealth for white families hovers at about $134,000, compared to blacks at approximately $11,000 and Hispanics at around $13,900.
"What history has proven is that when economic policy is colorblind it leaves black people behind," Packnett said.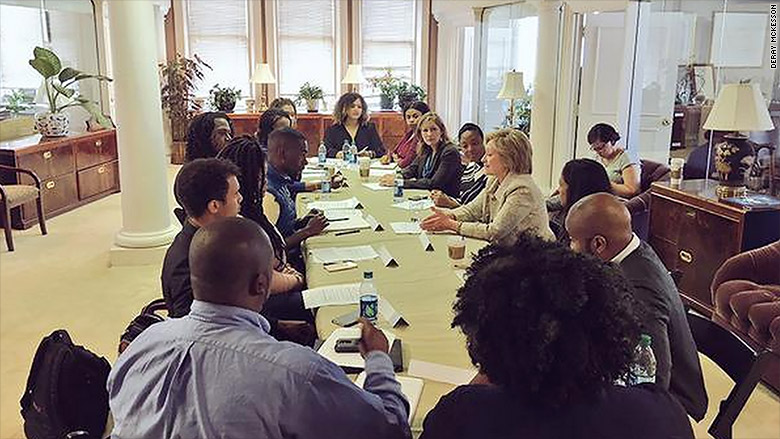 McKesson and Packnett said they expected Clinton to release a more specific policy agenda that would detail how she would address racial and economic inequality.
In addition to a detailed plan, Packnett said Clinton would also need to demonstrate that she has the "political will" to move her policies forward. Otherwise, she said, "you can have a great piece of legislation on a piece of paper that has no hope of passing."
This was not the first time Clinton has met with black activists. In August, Clinton met with members of various Black Lives Matter chapters and discussed issues including policies implemented by Bill Clinton that contributed the high rates of incarceration of minority men in the 1990s.
"I do think that there was a different set of concerns back in the 1980s and the early 1990s," Clinton told the activists in August. "And now I believe that we have to look at the world as it is today and try and figure out what will work now," she said.
Late Friday, Clinton tweeted her reaction to the meeting: "Racism is America's original sin. To those I met with today, thank you for sharing your ideas. -H"