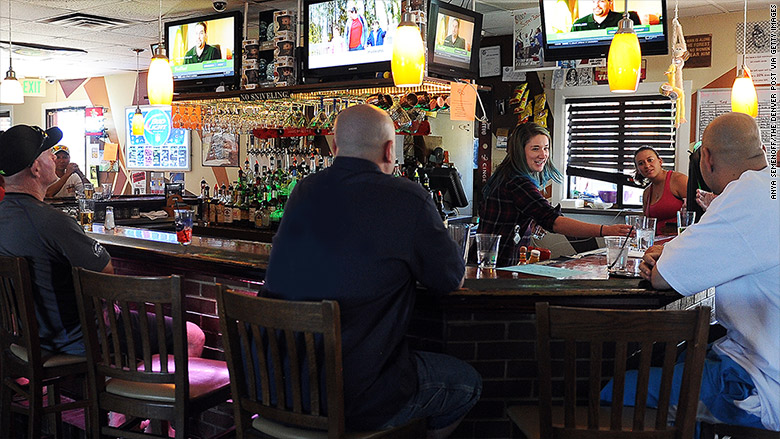 Love hanging out at your corner bar on a Friday night? You might have to kiss that ritual goodbye.
In the last 10 years, more than 10,000 neighborhood bars around the country have shut down.
In 2014, there were 59,555 neighborhood bars in the U.S., compared to 71,864 in 2004, according to a new report from Nielsen TDLinx.
What's fueling the decline of America's local watering holes?
"We've seen strong growth in specialty bars, such as premium wine bars and craft beer brew pubs," said Mario Gutierrez, vice president with Nielsen TDLinx. "It shows that consumers don't just want to go to places where they get drinks they already have at home."
Nielsen defined a neighborhood bar as having a regular clientele, no dress code, no obvious theme or cover charge -- and those that typically sell a lot of shots. Although it's worth noting that many of the new wine and beer bars around the country have likely become the preferred "neighborhood bar" for many people.
Gutierrez said there are also more establishments opening nationwide that serve food with alcohol.
"More consumers want to go out for that full dining experience rather than just a few beers with a bag of chips at a local bar," he said.
Bar closings hit their peak in 2014, with an average of six bars closing each day. That's slowed considerably in 2015, with an average of just three bars closing each day.
Local bars are disappearing the fastest in Indiana, Virginia, Michigan, Arkansas and Kansas.
But if you're in Washington D.C, Florida, Georgia, New Hampshire and Louisiana, you're in luck: You're gaining more bars than you're losing.