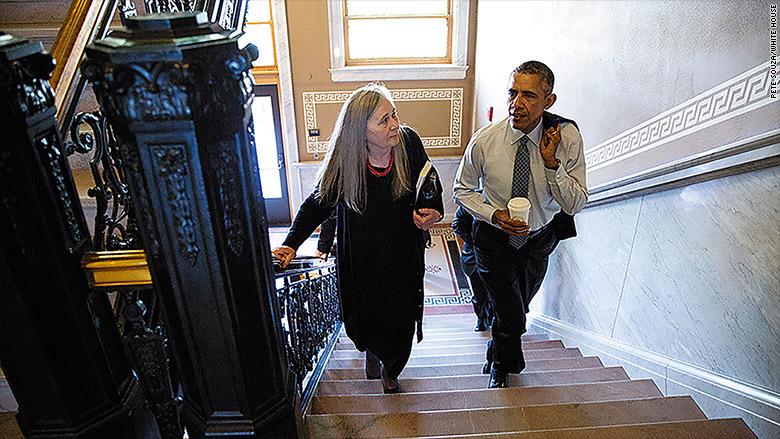 This year has seen the White House employ an unconventional media strategy, with President Obama sitting down with compelling cultural figures outside the realm of politics or the press.
In March, Obama interviewed David Simon, the creator of HBO's "The Wire," on the enforcement of drug laws and over-policing. A month later, Obama chatted with Bill Nye on the dangers of climate change.
That tactic continued this week with part one of a conversation in the New York Review of Books between Obama and Pulitzer Prize winning author Marilynne Robinson. (The second part will be published in the NYRB's next issue.)
Once again playing the role of interviewer, Obama's questions to Robinson illuminate his views on policy and the world around him. Here are five takeaways.
Being a good Christian is hard: Obama, who has been dogged by skepticism of his Christian faith, spent much of the conversation talking to Robinson about religion.
Obama spoke admiringly of Robinson's work, offering particular praise for the Christian characters in her books.
"Well, that's one of the things I love about your characters in your novels, it's not as if it's easy for them to be good Christians, right?" Obama said.
He added: "It's hard. And it's supposed to be hard."
Obama's ties to the heartland: Obama is often considered a cosmopolitan guy, with formative biographical experiences in big cities such as Boston, New York and Chicago. But in his interview with Robinson, Obama brought up his ties to rural America, saying that her books often remind him of his grandparents who grew up in Kansas.
"And part of my connection to your books, I think, is an appreciation for--without romanticizing Middle America or small-town America -- that sense of homespun virtues," Obama said.
Obama gets in a dig at Fox News: Obama also waxed nostalgic about his time in Iowa, where the interview took place and where the road to his 2008 election was jump-started with a win in the state's caucuses. He said some observers were surprised that he established such a strong connection with the state's voters.
"And the reason I did was, first of all, I had the benefit that at the time nobody expected me to win," he told Robinson. "And so I wasn't viewed through this prism of Fox News and conservative media, and making me scary."
A spirited defense of government: There is a mutual admiration between Obama and Robinson that is clear throughout the interview. What's also apparent is they seem to share a similar worldview. That came out when the two discussed the role of government, something Obama has spent the better portion of his presidency defending.
Obama said he would like to challenge those who believe that "our problems would be solved without government" to "go to some other countries where there really is no government, where the roads are never repaired, where nobody has facilitated electricity going everywhere even where it's no economical."
Robinson responded: "And also, one of the things that doesn't take into account is that local governments can be great systems of oppression. And it's a wonderful thing to have a national government that can intervene in the name of national values."
On race: The country's first African-American president has become more open and candid when discussing race during his second term.
He told Robinson that the country at times has a "fault line of race." Obama said he shared Robinson's positive view on the American education system, "except for a handful of schools that are predominantly minority that are terrible."
He made a similar point about the criminal justice system, which he said generally works "except for this huge swath of the population that is incarcerated at rates that are unprecedented in world history."