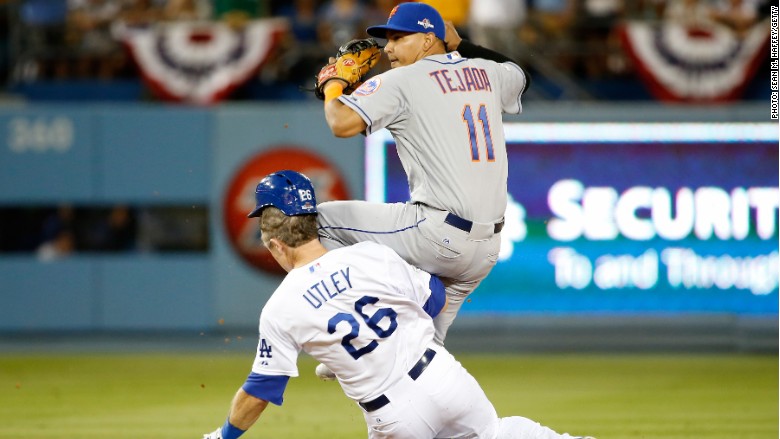 There's no crying in baseball, but for one Mets fan crying may have helped him get a ticket to a big playoff baseball game.
On Sunday, a call-in guest called "Will in Queens" cried on air with WFAN radio host Mike Francesa. The two were speaking about the ramifications of a controversial play that took place in the L.A. Dodgers 5 to 2 win over the New York Mets on Saturday night.
The emotional moment immediately went viral so on Monday Francesa spoke with Will again. However, this time Francesa turned Will's frown upside down by inviting him to game three in New York on Monday night.
"You be there at 8 o' clock and you can sit with me for the game," Francesa asked.
The offer apparently left Will from Queens speechless leading the host to ask if Will was still on the line.
"Okay, I'll be there," Will responded sounding a bit emotional again.
"Don't cry again now, Will!" Francesa said.
Will said he'd been a fan of the Mets for 15 years, is a math teacher in Forest Hills, and would wear the jersey of game three's starting pitcher, Matt Harvey, to the game.
"I don't know what to say," Will from Queens said.
"Say, 'let's go Mets,'" Francesa responded.
The play that ultimately caused the outpouring of emotions was the questionable take out slide of Dodgers' infielder Chase Utley that broke the leg of Mets infielder Rubén Tejada.
The slide was criticized by many in sports media and garnered Utley a two game suspension from MLB, which the Dodgers infielder is currently appealing.
As for the kind gesture by Francesa on Monday, the long-time New York sports radio host was praised by those on social media.
"Mike Francesa is the brunt of a lot of jokes but what he's doing for Crying Will is awesome," one Twitter user wrote.