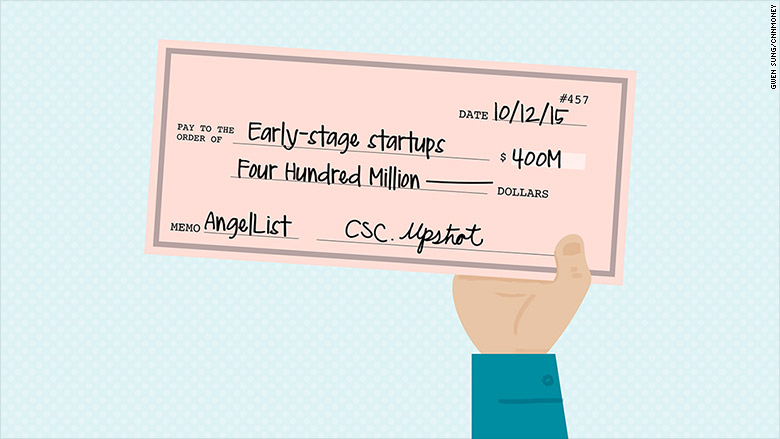 Young U.S. startups have a lot to be hopeful about.
On Monday, AngelList announced a new $400 million fund for early-stage companies, the largest seed fund ever, according to AngelList.
The fund is backed by one of China's largest private equity firms, China Science & Merchants Investment Management Group, which recently opened up a new venture capital firm, CSC Upshot.
Founded in 2010, AngelList is a platform for angel investors and venture capitalists to band together and back young companies.
The new fund will operate independently of AngelList; Upshot will use the platform to find startups and partner with other investors.
The platform has invested over $205 million in 650 companies, including Shyp, Sprig and Luxe.
AngelList cofounder and CEO Naval Ravikant said CSC Upshot even offered to put more in the fund he turned it down.
"We want to be able to make sure that we can allocate capital we have," he said. "[We'll] start slow and ramp up."
Ravikant expects that up to $25 million will be deployed in the first year, in amounts of $200,000 each. The money will inject capital into AngelList "syndicates." A "syndicate" is a group of investors: with one who serves as the lead on a deal and others who contribute as backers. There are currently 165 of these syndicates -- led by investors like Tim Ferriss and Jason Calacanis -- that include a combined 4,400 investors.
According to Ravikant, AngelList will provides data and insights to help CSC make investment decisions. AngelList has used a similar model with a $25 million fund from Maiden Lane.
Headquartered in the U.S., Upshot's fund follows the trend of Chinese investors getting into U.S. companies earlier and earlier.
China has been a big investor in startups in recent years: Companies like Uber, Snapchat and Airbnb have all raised recent rounds of funding from Chinese investors.
Richard Chen, a partner at Beijing-based VC firm CeYuan, predicted this summer that more money will shift to younger companies. That can happen as a result of increased market volatility in both China and the U.S.
Ravikant said if all goes well, there's more money where the $400 million came from: "It's pretty clear more capital is around."