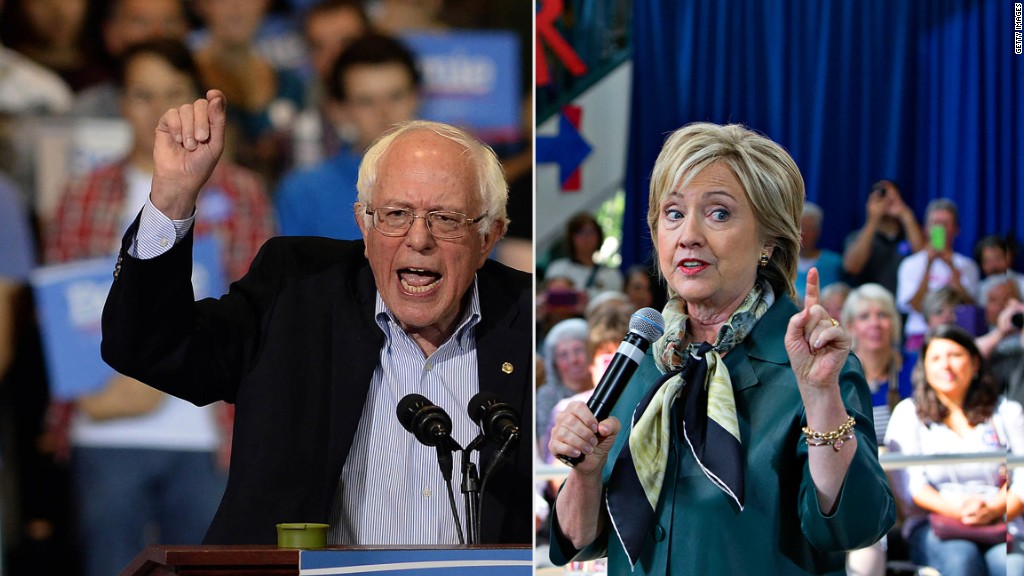 Wall Street has made Hillary Clinton a millionaire.
As Clinton tries to talk tough about how she will stand up to America's biggest banks, her Democratic rivals are likely to remind voters just how cozy she's been with Wall Street.
Clinton made $3.15 million in 2013 alone from speaking to firms like Morgan Stanley, Goldman Sachs, Deutsche Bank and UBS, according to the list her campaign released of her speaking fees.
"Her closeness with big banks on Wall Street is sincere, it's heart-felt, long-established and well known," former Maryland Governor Martin O'Malley has said on the campaign trail.
While Clinton has given paid speeches to many groups, Wall Street banks and investment houses made up a third of her speech income.
She even made more money speaking to UBS and Goldman Sachs than her husband Bill did. Goldman Sachs in New York paid Bill $200,000 for a speech in June 2013 and Hillary $225,000 for a speech in October of that year.
Clinton's Wall Street ties likely to be debate issue
"If the other candidates want to make this an issue, they've got plenty of material," says Larry Sabato, director of the University of Virginia Center for Politics.
Sabato predicts O'Malley or Jim Webb are more likely to go negative on Clinton in the CNN debate Tuesday, but even Bernie Sanders may be able to take a sideswipe when it comes to Wall Street.
Sanders has been outspoken that the big banks are still "too big to fail" and should be broken up.
Clinton's anti-Wall Street policies stop far short of that, with proposals to tax short-term trading and impose a "risk fee" on big banks with assets over $50 billion.
Wall Street's reaction to her plan to regulation big banks was mostly a sigh of relief.
"We continue to believe Clinton would be one of the better candidates for financial firms," one analyst wrote.
Related: Wall Street isn't worried about Hillary Clinton's plan
Wall Street has been a top supporter of Clinton's career
As a former senator from New York, it is not surprising that Hillary Clinton would have a close connection to the financial world. But Wall Street continues to be a big contributor to her political career.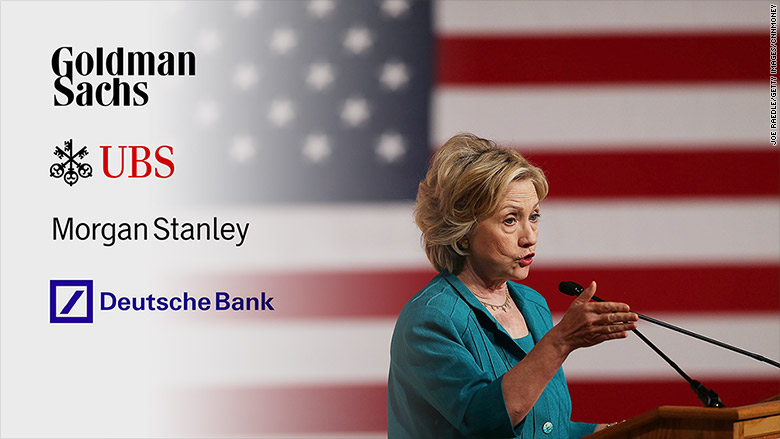 In her 2008 run for president, JPMorgan (JPM), Goldman Sachs (GS), Citigroup (C)and Morgan Stanley (MS)employees were among her top campaign contributors, according to the Center for Responsive Politics.
Tabulating campaign contributions for her entire senate political career shows that four of the top five her contributors are Wall Street banks (Citigroup, Goldman Sachs, JPMorgan and Morgan Stanley).
In contrast, Sander's career campaign contribution list is almost entirely made up of union groups.
Related: How Clinton and Sanders would tackle income inequality
Republicans likely to have even more Wall Street ties
Clinton has tried to re-cast herself in this campaign. She shunned Manhattan for her campaign headquarters, opting to locate in hip Brooklyn.
She also did not list out where her speaking fees came from on her 2014 tax return, although she made about the same overall for speeches -- around $10 million -- as she did in 2013.
Still, her ties to big banks could be a problem in the Democratic primary, making it more difficult for her to appeal to the far left of her party. But if she becomes the Democratic candidate, her banking connections probably won't be as big of a deal on Election Day.
"The GOP candidate is likely to have even more time with, and donations from, Wall Street," says Sabato.