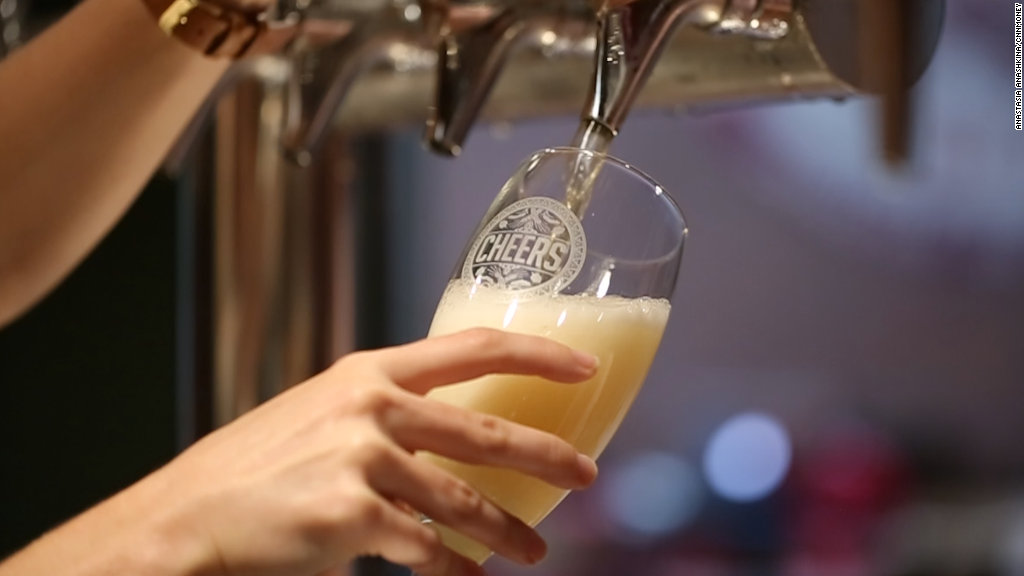 All your favorite beers could soon be owned by the same company.
The world's biggest brewer, Anheuser-Busch InBev (BUD), has agreed to buy its main rival SABMiller (SBMRY) for £68 billion ($104 billion). The combined firm will be the world's largest brewery by far, with sales topping $55 billion.
The two together produced 77 billion liters of drinks last year, roughly 150 billion pints, and would control close to a third of the world's beer market.
The Bud-Miller portfolio would include 18 of the world's 40 most popular beers by volume, Euromonitor data shows.
Its biggest seller? Bud Light. Despite falling sales, it remains the world's third most popular beer, outranking Budweiser, which is in fourth place.
ABInBev has three more brands in the global top 10: Skol, Harbin and Brahma. Brazilian drinkers like Skol and Brahma, while Harbin is one of China's favorite beers.
British giant SABMiller's biggest seller is Miller Lite. The pilsner style offering is the 15th most popular beer in the world. SABMiller owns four other brands in the top 40: Castle, Chibuku, Carling Black Label and Aguila. This reflects the brewer's sweeping global footprint -- from Africa, to Europe and South America. The company operates in six continents and produces more than 200 brands of beer worldwide.
Related: The world's most popular beer is...
The superbrewery would also own many of the world's oldest breweries. SABMiller is the owner of beer jewels such as the Dutch Grolsch, which was founded in 1615, and the Czech Pilsner Urquell. The world's first pilsner-style beer dates back to 1842.
AB Inbev's own heritage brews include Belgian wheat beer Hoegaarden, which dates back to 1445, and Germany's Beck's, which has been around for nearly 150 years.
But the combined brewery would be also well positioned to compete on the craft beer scene. That's because as younger drinkers turn in ever greater numbers to independent breweries, the two global market leaders have been trying to defend their market share.
AB InBev has swallowed Seattle's Elysian Brewing, Oregon's 10 Barrel Brewing and Chicago-based Goose Island in the last year or two. SABMiller has also tapped into the craft beer scene, buying one of the UK's most successful independents, London's Meantime Brewing Company.
Related: Big brewers tap into craft beer craze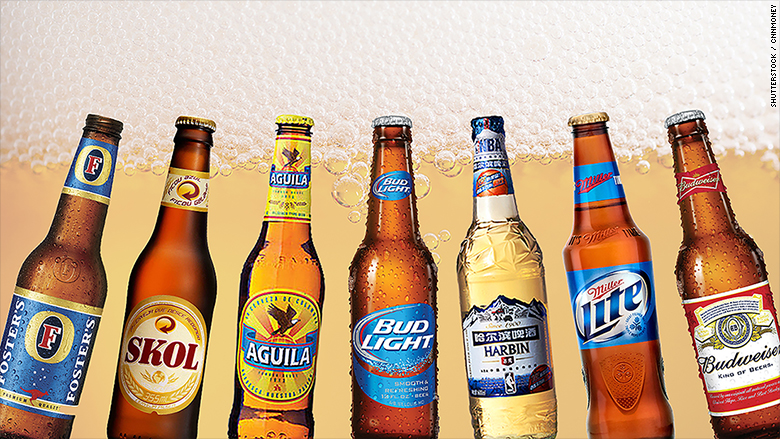 Together ABInBev and SABMiller own 18 beers out of the global top 40. The combined company's most popular brands are listed here by sales volume:
1. Bud Light
2. Budweiser
3. Skol
4. Harbin
5. Brahma
6. Corona Extra
7. Miller Lite
8. Antarctica
9. Busch
10. Sedrin
11. Castle
12. Chibuku
13. Victoria
14. Natural
15. Stella Artois
16. Cass
17. Carling Black Label
18. Aguila
Source: Euromonitor, by volume.