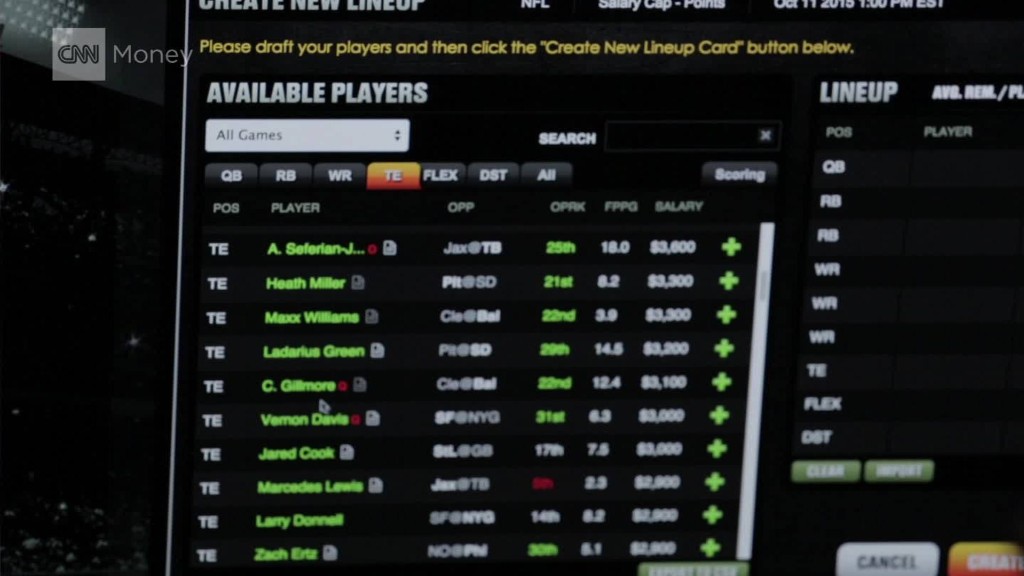 A scandal and a lot of bad PR didn't hurt fantasy sports: The sites took in record entry fees from fans last week amid concerns that the services' employees were profiting from inside information.
A report by SuperLobby, a research firm that tracks fees and prizes in the industry, reports that the daily fantasy sports sites brought in more money in NFL fan entry fees than in any other week.
"Fears concerning the potential impact of the mainstream media's negative daily fantasy sports coverage last week appear unjustified," the report said. "If anything, it may be that the 'there is no such thing as bad publicity' maxim has come into play."
SuperLobby's data shows that entry fees to DraftKings and FanDuel, the two highest-profile players in the business, rose 4% to 5% compared to the previous week. Spokespeople for DraftKings and FanDuel declined to comment.
Related: Fantasy sports - What is it anyway?
It came to light recently that a DraftKings employee who had access to confidential data won $350,000 in a FanDuel contest -- raising questions about the fairness of the games.
DraftKings and FanDuel said no inside information was used by the DraftKings employee before he made the entry that won the big prize.
The two companies also announced new policies permanently banning their employees from playing paid fantasy sports and said they would no longer accept entries from employees of rival sites.
Related: Fantasy sports fans wonder if games are rigged
DraftKings and FanDuel have each raised about $300 million from investors and now have valuations in the billions. They have flooded the airwaves and stadiums with ads trying to attract new players to daily fantasy games. In daily game, fans compete for prizes based on a single week of football statistics.
"These sites don't need publicity of these news reports; they're everywhere to be seen," said Dan Back, a partner with RotoGrinders, a news site for daily fantasy sports players. RotoGrinders has its own ads from the services.
Still, the news reports likely introduced new fans to how daily fantasy sports are played, and that could have attracted new players.
Back also said that some fantasy players might have been assured by the steps taken by DraftKings and FanDuel in the wake of the scandal.