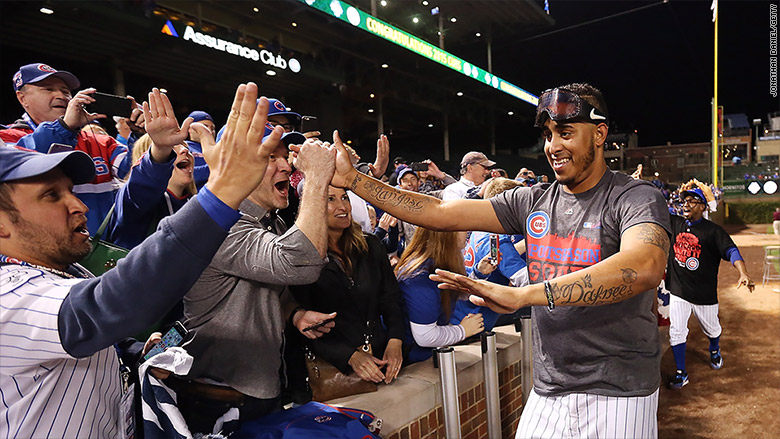 Cubs fans are paying top dollar to watch their team try to make it to the World Series for the first time since 1945.
Fans have already paid an average of $674 for the Cubs' first game in the National League Championship Series at Wrigley Field, slated for October 20. Tickets for the second game the following night sold for an average of $729, according to SeatGeek.
For Cubs fans who haven't bought their tickets yet, those prices look like a bargain. Tickets to the Cubs home playoff games were listed for a record average $1,325.93 as of Wednesday morning, according to TiqIQ, another tracking service. That's nearly twice the previous record set for a league championship ticket, which was for the San Francisco Giants in 2012.
The most expensive Cubs ticket now is a first-row box seat in the infield listed for $11,700. The cheapest ticket is a $500 upper deck ticket for Game 3.
Related: Crying Mets fan invited to playoff game by sports radio host
Only one of the other six teams still alive in the playoffs - the Los Angeles Dodgers - even existed the last time the Cubs made it to the series, and they were playing in Brooklyn at the time. All the other teams in the playoffs have been to the World Series in the last 25 years.
Few if any living Cubs fans have ever seen them win a championship, since their last World Series win came in 1908. That's the longest drought in sports history.
In the next round of playoffs the Cubs will play either the New York Mets or the Dodgers, and ticket prices for the home games in those cities are a relative bargain. Tickets in New York are available for an average price of $846.43. Tickets to Los Angeles games have an average listing price of $366.24. That means that Cubs fans might be better off buying a plane ticket to either New York or Los Angeles to watch a game there rather than buying a ticket for a game at Wrigley.