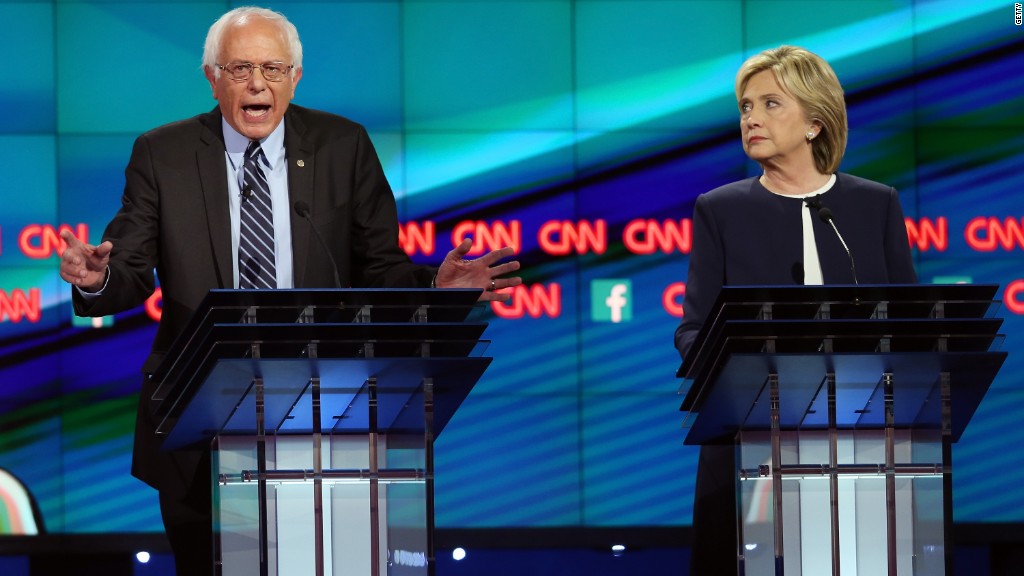 When it comes to the middle class, the Democrats lead the Republicans by a score of 11 to 3.
Democrats focused on the middle class and its problems in their first debate on Tuesday night on CNN. That's a sharp contrast from the Republicans, who barely touched upon the issue. And the Democrats mentioned "income inequality" six times, while the Republicans never uttered it.
Both parties have said they want to increase Americans' opportunity, but Republicans focused more on immigration and Planned Parenthood in their three-hour debate on CNN last month. The GOP also talked much more about jobs and taxes -- and interestingly, the minimum wage -- than the Democrats.
CNNMoney looked through the transcripts of each debate to see how often key words about these issues were mentioned.
Here's the breakdown:
Middle class
Democrats: 11
Republicans: 3
Income inequality
Democrats: 6
Republicans: 0
Jobs
Democrats: 14
Republicans: 28
Tax
Democrats: 20
Republicans: 57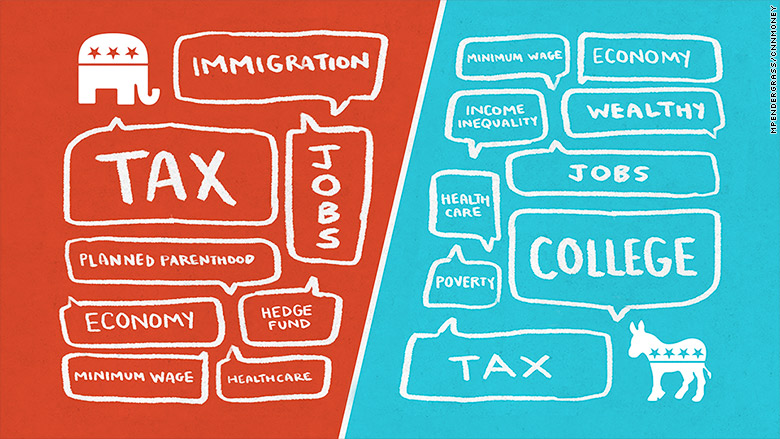 College
Democrats: 25
Republicans: 1
Wealth/wealthy
Democrats: 13
Republicans: 1
Wall Street
Democrats: 23
Republicans: 2 (both referring to the Wall Street Journal)
Minimum wage
Democrats: 5
Republicans: 8
Economy
Democrats: 15
Republicans: 11
Health care
Democrats: 6
Republicans: 2
Poverty
Democrats: 4
Republicans: 2
Hedge fund
Democrats: 0
Republicans: 6
Immigrant/Immigration
Democrats: 4
Republicans: 34
Planned Parenthood
Democrats: 1
Republicans: 24
The differences were not lost on the Democrats on stage Tuesday. In their closing statements, several remarked on the contrast between their debate and their rivals across the aisle.
"What you did see is that, in this debate, we tried to deal with some of the very tough issues facing our country. That's in stark contrast to the Republicans who are currently running for president," said frontrunner Hillary Clinton in her closing statement. "What you have to ask yourself is: Who amongst us has the vision for actually making the changes that are going to improve the lives of the American people?"