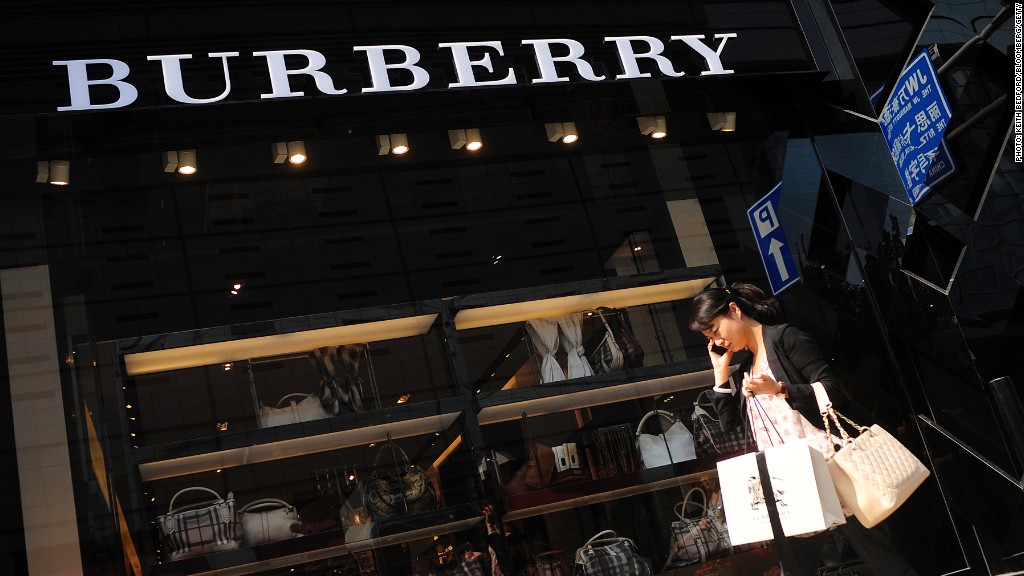 Burberry shares slumped by about 12% in London on Thursday after the company announced disappointing sales in its key Asian markets.
The fashion retailer's retail revenue grew by only 2% in the first half of the year, down from 8% in the first quarter, and well below analysts' expectations.
Burberry said sales in Hong Kong "decelerated further" in the second quarter, while mainland China sales "decreased slightly" in the first half.
"The external environment became more challenging during the half," said Burberry CEO Christopher Bailey.
China has been a key driver of growth for Burberry in the past few years. But Chinese shoppers are turning away from its trademark checked trench coats and other luxury goods as the world's second biggest economy slows.
Related: Louis Vuitton sales hurt by China's market slump
"Worries about a China/Asia slowdown are justified with the legendary Chinese consumer spending less on their much loved luxury goods at home, even if they continue to ring up the tills in Japan and Europe thanks to currency benefits," said Mike van Dulken, head of research at Accendo Markets.
Burberry said it is taking "swift action" on costs to minimize the impact of the increasingly challenging conditions in the luxury market on its business.
"Our plans for the festive season position us well to return to a more positive sales trend in the all-important second half," Bailey said.