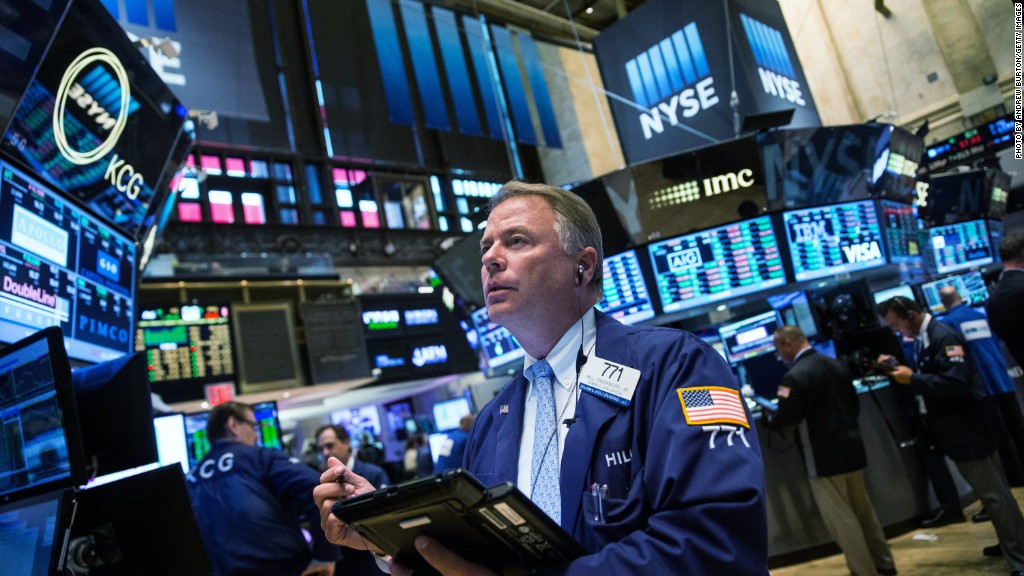 Investors apparently aren't interested in slow growth companies that are weighed down by debt. Even if they are big and well-known. Go figure.
Payment processing firm First Data (FDC), the biggest initial public offering of 2015, had a tough return to the public markets Thursday. Shares finished the day more than 1.5% lower.
And that's after First Data priced its initial public offering below its expected range due to lackluster demand.
First Data raised $2.56 billion by selling 160 million shares at $16 each. But the company had originally hoped to sell its shares at a price range of $18 to $20.
Still, at least it was able to get the IPO to market. The same couldn't be said for grocery chain Albertsons.
Albertsons (ABS) was originally scheduled to start trading Thursday. But the company, which also owns Safeway, postponed the stock sale. It's not clear when Albertsons will debut.
Related: Can big, fat IPOs succeed?
Both First Data and Albertsons are companies that used to be public and were taken private in the past few years. KKR (KKR) took over First Data while Cerberus acquired Albertsons.
First Data and Albertsons are not your typical IPOs though. Processing card payments and selling groceries isn't as dynamic as making consumer gadgets, developing drugs or operating a hot restaurant chain.
Sales growth has been sluggish for both companies this year. They are also losing money and have massive debt loads as a result of their buyouts.
So even though the broader market has stabilized since late August, it's not a huge surprise that investors are not that excited about First Data or Albertsons.
First Data may have a better chance of doing well over the long haul though.
It should benefit from the growing trend towards e-commerce and mobile transactions. Competitors Fiserv (FISV), Global Payments (GPN) and Vantiv (VNTV) are all doing reasonably well too.
And the company's CEO, Frank Bisignano, is widely respected in the industry. Bisignano was formerly the co-COO of JPMorgan Chase (JPM) and was once thought to be among the top candidates to eventually succeed Jamie Dimon as Chase CEO.
Bisignano is also First Data's second-largest shareholder.
First Data president Guy Chiarello said in an interview Thursday morning that the company never considered delaying its offering and that it was confident in its long-term strategy.
"We had a successful road show. We never looked back," he said. "I'm hoping we can be a bellwether."
But it may be difficult for Albertsons to attract buyers.
Related: Walmart: Wage hikes are killing our profits
The shocking sales and profit warning from Walmart (WMT)on Wednesday clearly didn't help Albertsons' chances of a successful stock offering either.
Retail stocks plunged Wednesday after Walmart's bad news -- including Albertsons' rival Kroger (KR).
But the chilly reception to First Data and Albertsons isn't stopping other well-known companies from looking to go public.
Earlier this week, Fiat Chrysler (FCAU) disclosed plans to sell a stake in its Ferrari unit to investors. It will trade under the fitting (and awesome) ticker symbol of RACE.
And mobile payments company Square, which is led by Twitter (TWTR) CEO Jack Dorsey, filed for an IPO on Wednesday evening.