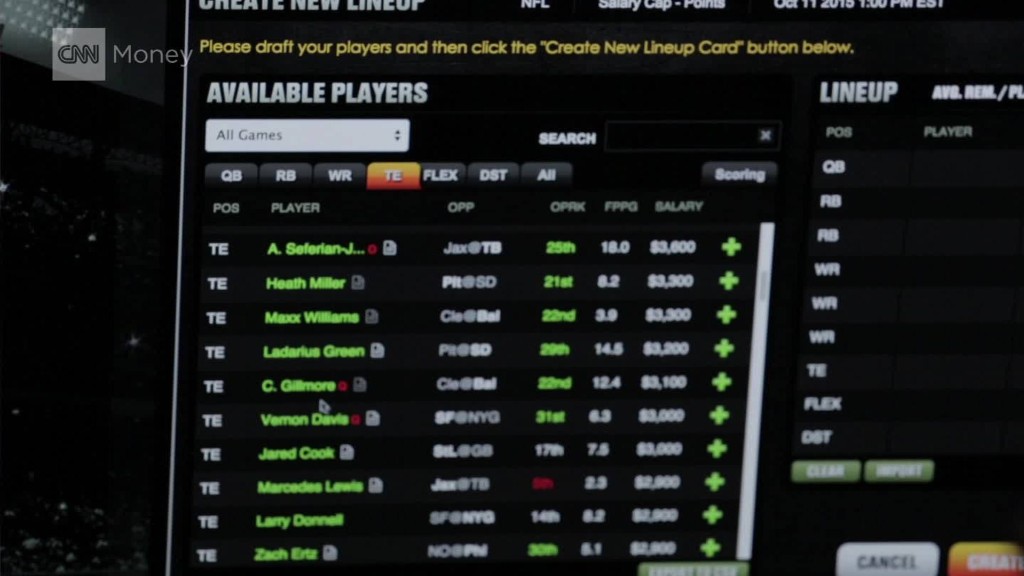 Federal prosecutors are investigating the business practices of fantasy sports services.
The probe is being led by the U.S. Attorney's Office in Boston, law enforcement officials told CNN. Boston is the home of DraftKings, one of the highest profile companies in the daily fantasy sports industry. Its main rival, FanDuel, is based in New York.
Last week, DraftKings and rival site FanDuel confirmed that a DraftKing employee had won $350,000 in prize money in a FanDuel game. The employee had access to confidential company data, although both sites insist that he didn't have access to such information before making his choices in the FanDuel game and did nothing improper.
But news of his win, and FanDuel's confirmation that DraftKings employees have won millions when playing its games, have raised questions about whether the games are being manipulated by players with insider information.
Both sites have since permanently banned their employees from playing fantasy sports for money, and said they would no longer accept entries from employees of other sites. But that did little to quiet calls for government action.
Related: Fantasy sports - What is it anyway?
New York Attorney General Eric Schneiderman announced a probe of DraftKings and FanDuel last week, and set an Oct. 15 deadline for the services to turn over a trove of information, including policies about data usage and employees. Members of Congress have also called for hearings on the matter, federal oversight by agencies such as the Federal Trade Commission and possible legislative action.
Spokespeople for DraftKings did not immediately have a comment on word of the federal probe or whether they would meet Thursday's deadline from Schneiderman's office. FanDuel spokeswoman Emily Bass said, "we're cooperating with all parties about how to define the right set of rules for our industry as it continues to grow."
The sites are also facing civil lawsuits from players who argue that they were hurt by the fact that so many fantasy site employees win prizes.
Despite the insider information allegations, fans have continued to flock to the sites to compete for prizes. In fact, DraftKings and FanDuel both had their best weeks ever last weekend, according to a fantasy tracking service.
Still, fans are worried that prosecutions or new government regulations could hurt the industry.
Related: DraftKings and FanDuel ads are everywhere
"I think that's the biggest worry that any of us really have right now. You never know what's going to happen," said Dan Back, a partner with RotoGrinders, a news site for daily fantasy sports players.
Investigators will also look at whether fantasy sites improperly allowed people to play even if they lived in a state where fantasy sports are illegal.
Federal law explicitly allows fantasy sports despite a prohibition on sports gambling. But there are five states -- Arizona, Iowa, Louisiana, Montana and Washington -- where fantasy sports are illegal. One of the federal lawsuits was filed by a player who lives in New Orleans.
The industry was dealt another blow on Thursday when Nevada regulators ruled that playing daily fantasy sports is considered gambling under state law, and required websites such as DraftKings to shut down until they obtain proper state licenses.
"We strongly disagree with this decision and will work diligently to ensure Nevadans have the right to participate in what we strongly believe is legal entertainment," said a DraftKings spokesperson. "Unfortunately, we now have to temporarily disable our product for our thousands of customers in Nevada in order to be compliant in all jurisdictions."
- Rob McLean contributed to this report