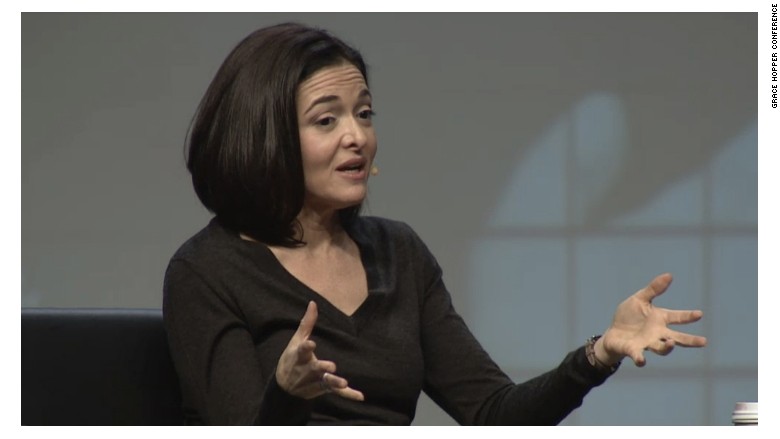 Facebook's Sheryl Sandberg has been lobbying for gender equality in technology for years.
She gave a TED Talk in 2010, has held powerful roles at Google and Facebook (FB), and is the author of a bestselling book on the topic.
But her work is just getting started.
"The numbers for women in leadership aren't moving and the numbers for women in tech aren't moving," Sandberg said on Thursday.
Sandberg was speaking at the Grace Hopper Celebration of Women in Computing in Houston, Texas. It was one of a few public speaking engagements she's had since her husband, Dave Goldberg, died six months ago in an accident.
"It was a completely and utterly awful change, and I didn't think anything could go right ever again," said Sandberg
A friend suggested that, every night before bed, she write down three things she had done well. She found the practice helpful and encouraged the women at Grace Hopper to do the same.
"I realized, even tragedy aside, my entire life I have gone to bed worrying about things I didn't do well."
The chief operations officer at Facebook (FB) doled out much of the same advice and data that she covered in her 2013 book, "Lean In." She urged the largely female audience to negotiate for raises, not shy away from being ambitious, seek out peer support, and stay in the technology field.
"Stay in for yourself and stay in for the women who are going to follow you," she said. "Stay in it for my eight-year old daughter."
Sandberg traced many of the issues women face in the workplace to deeply ingrained cultural biases. Men who lead are liked because they adhere to stereotypes. Women are expected to be likable, and when they lead they're seen as bossy.
"I actually think we need to bring back the word feminist and get rid of the word bossy," said Sandberg.
Her book has gone on to gain a loyal following. There are official Lean In "circles," in which local groups of like-minded women meet once a month or more for support, advice and mentorship. Sandberg said there are now 25,000 Lean In circles in 132 countries.