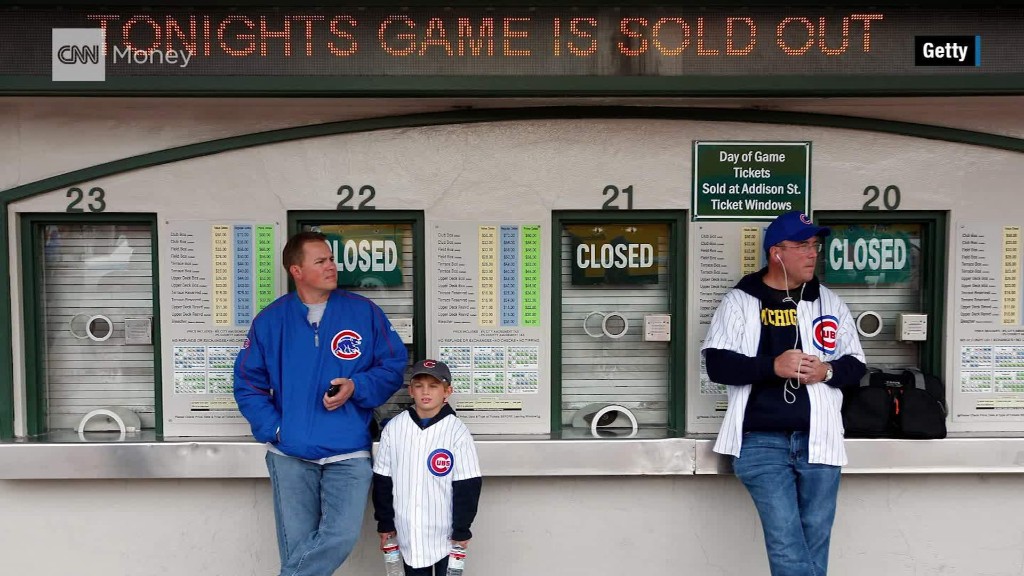 Thursday night's game between the New York Mets and Los Angeles Dodgers drew an impressive audience. The upcoming showdown between the Mets and Chicago Cubs is poised to be even bigger.
The Mets' 3-2 victory over the Dodgers in game five of the National League Division Series pulled in an average audience of 7.4 million viewers for TBS, which like CNN, is owned by Time Warner (TWX). According to TBS, it was the second most-viewed NLDS game ever on the channel.
The 2015 MLB postseason has been high on drama, with all but one of the division series going to a decisive game five. That's translated to impressive television ratings. TBS said that its 10 playoff telecasts have averaged 5.7 million viewers, up 47% from last year.
Related: Yankees, Astros score most watched MLB Wild Card Game ever
Last week's game between the New York Yankees and Houston Astros, which aired on ESPN, was the highest rated MLB Wild Card game since that game started in 2012.
The increased attention could also be attributed to the handful of beloved franchises that qualified for the postseason this year. Two of those teams, the Mets and the Cubs, are set to square off in the National League Championship Series, which will also air on TBS.
A TBS spokesman says he expects the series to "draw plenty of interest." There are many reasons to believe that's true. The teams involved represent two of the three largest media markets in the country. They also both claim passionate, nationwide fan bases.
Related: Cubs and Mets tickets are going up, up, up
And then there are the historical implications. The long-suffering Cubs haven't played in a World Series since 1945, and haven't won one since 1908. Eager to see the 107-year drought brought to an end, Cubs fans are shelling out top dollar to see the first NLCS game at Wrigley Field.
John Ourand, a staff writer for Sports Business Journal, believes there will be plenty of fans watching from home, too. Unlike the division round series, which were best-of-five, the championship round will be best-of-seven. If this year's trend continues and the Mets and Cubs go the distance, Ourand believes the series could make television history as well.
"My guess is that the series will bring baseball's biggest cable TV ratings, regardless of how long the series goes," Ourand told CNNMoney. "If the series goes to a seventh game, I expect it to become MLB's most viewed game in cable TV history by far."