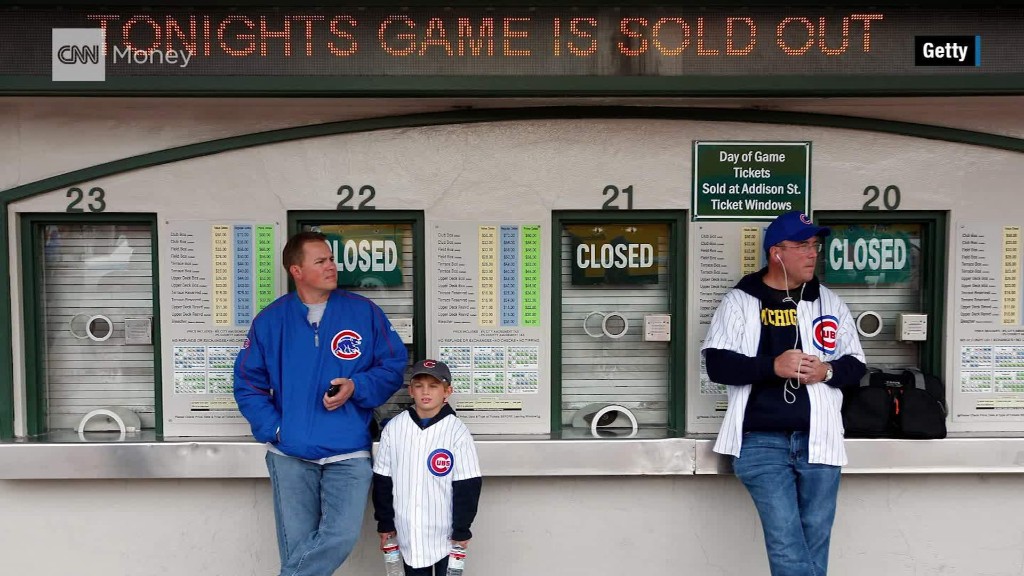 NLCS stands for National League Championship Series. This year it might also stand for Need Lots of Cash for Seats.
Mets fans are paying a big premium to see their team play the Cubs in the next round of baseball's playoffs. But tickets in New York are a steal compared to prices in Chicago, where championship-hungry Cubs fans are paying a fortune hoping to see the Cubs get to the World Series.
The average price paid for the first two games at CitiField in Queens is around $350, according to ticket tracker SeatGeek. Meanwhile, Cubs fans are snapping up tickets at an average price of $725 for the first two games in Chicago next week. That's comparable to the cost of World Series tickets on the resale market, according to SeatGeek analyst Connor Gregoire.
And prices are heading higher.
Related: Mets-Cubs ratings could be historic
As of Friday, the average listing price for Mets tickets was $838.40, according to TiqIQ, while Cubs tickets were listed for an average of $1,228.16.
"The market in Chicago is unlike anything we've seen for a League Championship Series," said Gregoire. The least expensive ticket for any of the three games at Wrigley went for $482.
The Cubs have not been to the World Series since 1945, and haven't won a championship since 1908. Fans in Queens, Toronto and Kansas City have all gone decades since their last championship, although all have won within the last 30 years.