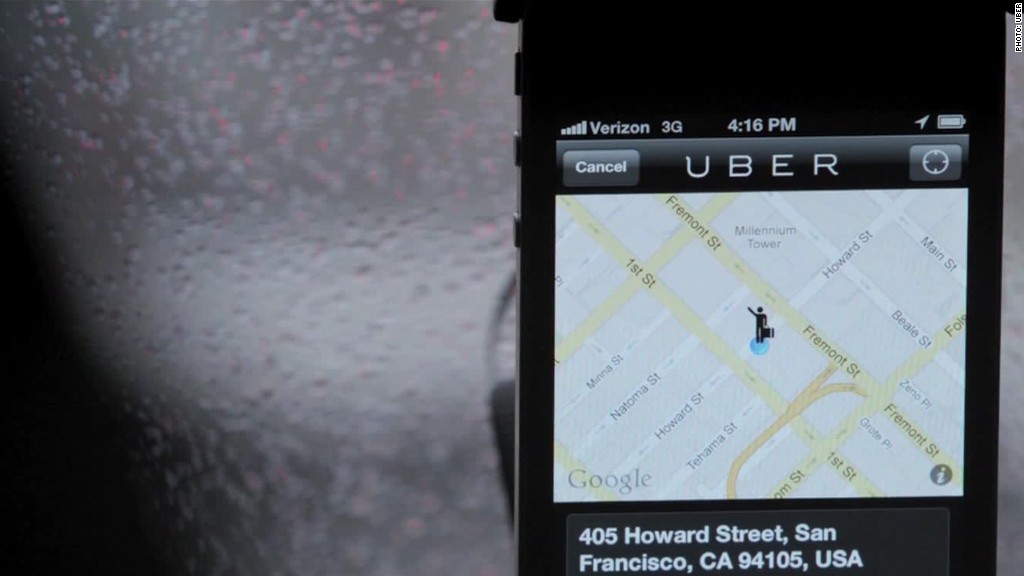 Uber has just scored a rare victory in one of its largest European markets.
London's High Court ruled Friday that Uber's app is not a taximeter, and that the service has been operating legally since it launched in the city in 2012.
The use of meters to calculate fares is reserved for London's black cab drivers. Their representatives -- the Licensed Taxi Drivers Association -- had asked the court to ban the app.
But High Court judge Justice Ouseley said that a driver's smartphone along with the app was not the same as a fare-calculating device.
"A taximeter...does not include a device that receives GPS signals in the course of a journey, and forwards GPS data to a server located outside of the vehicle," he concluded.
The taxi drivers association said it would appeal to the Supreme Court.
"The law really is an ass. [The app] uses time & distance to calculate fare and it's not a meter?" the association tweeted.
Jo Bertram, Uber's general manager for the UK, Ireland and Nordics, hailed the ruling as "great news for Londoners and a victory for common sense."
Uber's expansion in the United Kingdom has been particularly sensitive.
London's "cabbies" undergo stringent training before they're licensed. The growth of Uber's ride-hailing platform has created a new class of drivers who haven't undergone the same training and aren't subject to the same regulations.
Related: Uber's rivals are teaming up in Asia
Despite the court ruling, Uber is still facing speed bumps across Europe.
London transport authorities are considering enforcing a mandatory five-minute wait for passengers seeking to use the app. They're also considering barring the company from displaying driver availability on a map in its smartphone app.
"Now the High Court has ruled in favor of new technology, we hope Transport for London will think again on their bureaucratic proposals for apps like Uber. Compulsory five-minute waits and banning ride-sharing would be bad for riders and drivers," said Uber's Bertram.
In Paris, Uber was forced to suspend its uberPOP service following violent attacks and ongoing protests against the drivers.
In Amsterdam, the Dutch justice department is investigating whether Uber is breaking transport rules.
Despite its ongoing legal battles, Uber has seen a meteoric rise since it launched five years ago. According to founder Travis Kalanick, the service is in more than 300 cities around the world and sees an average of 1,000 rides per minute.
The company is now worth about $50 billion.