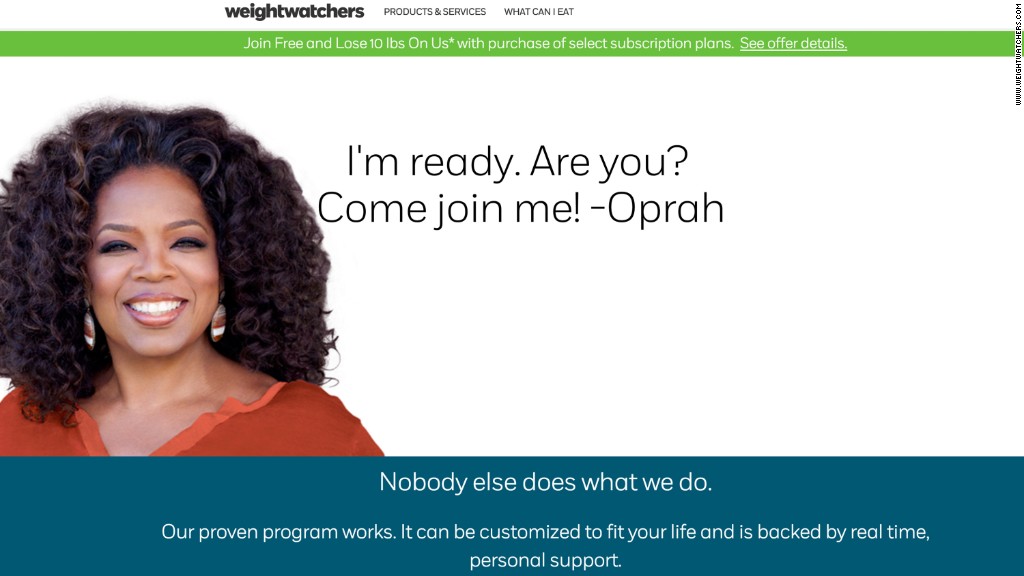 Can Oprah turn Weight Watchers around?
Oprah Winfrey and Weight Watchers announced a partnership Monday in which Winfrey is buying a 10% stake in the company and taking a seat on its board.
The company said it would broaden its focus to emphasize health and happiness, not just weight loss.
Winfrey paid just under $7 a share -- about $43 million -- for her stake.
Shares of Weight Watchers (WTW) more than doubled on the news, to nearly $14 a share.
"Weight Watchers has given me the tools to begin to make the lasting shift that I and so many of us who are struggling with weight have longed for," said Winfrey. "I believe in the program so much I decided to invest in the company and partner in its evolution."
The business has been suffering. Sales were down 22% and profits nearly 50% in the first half of this year. And shares were down 72% this year before the Oprah announcement.
Winfrey has typically had a golden touch. Her endorsements have juiced the sales of products and books she mentioned on her show.
The price jump could also be the result of what is known on Wall Street as a "short squeeze."
About 75% of the company's shares had been held by investors betting the price would continue to fall. That is known as a short position.
It's a risky bet that can result in huge losses if a stock starts to rise. To cap those losses, short sellers may rush to buy, turning a mini rally into a big one.
Weight Watchers started about 50 years ago when the company says founder Jean Nidetch began inviting friends to her Queens, New York, home to discuss the best way to lose weight.
Today Weight Watchers offers coaching and meetings as well as branded versions of its food and has annual sales of $5 billion. It was one of the first national diet programs. But now that field includes many competitors along with rival theories on the best way to lose weight.
Winfrey, whose own battle with her weight was a staple of her long-running talk show, has an estimated net worth of $3 billion, according to Forbes. That ranks her as the nation's fifth wealthiest self-made American woman.
While Winfrey no longer has her syndicated television talk show, which she gave up in 2011, she still presides over a media empire that includes her own four-year old cable network, OWN.
The announcement does not mention whether she will be a spokesperson for the company.