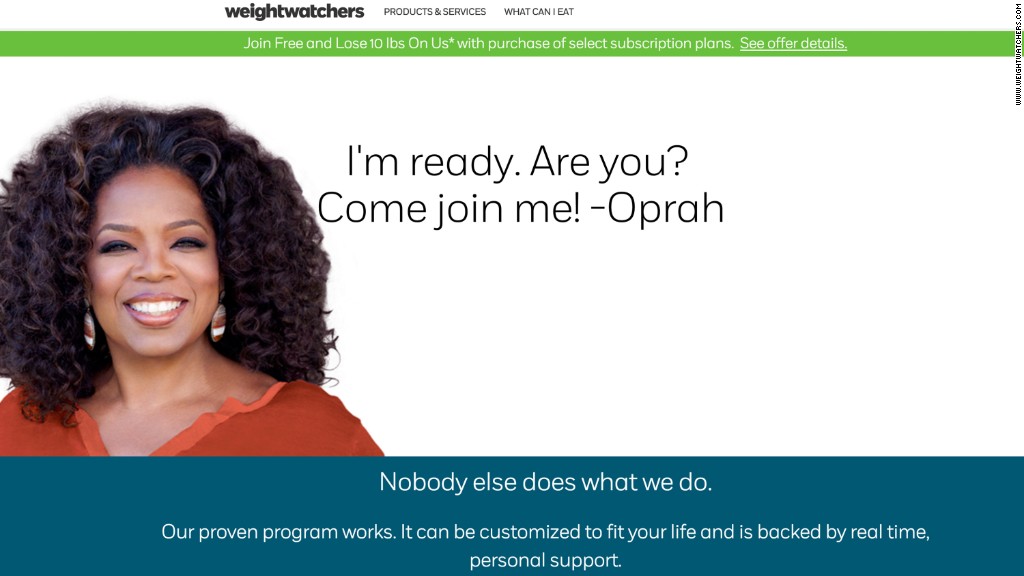 People generally turn to Weight Watchers to lose something, but in Oprah Winfrey's case she's gained a whole lot: $72 million.
That's what Winfrey has earned -- at least on paper -- in the day and a half since she took a 10% stake in the company.
Weight Watchers (WTW) announced Monday that Winfrey bought 6.4 million shares at $6.79 a share, which was Friday's closing price.
But shares more than doubled in value after the company announced Winfrey's stake on Monday. And they climbed another 30% in midday trading Tuesday.
Even after a huge rally, shares are still off more than 25% this year.
Winfrey made her $72 million profit on her investment of $43.2 million. Still, her Weight Watchers' stake only represents about 4% of her estimated net worth of $3 billion, according to Forbes.
Related: Oprah comes to Weight Watchers' rescue
The company has been struggling. Sales were down 22% and profits were off nearly 50% in the first half of this year. But Winfrey has typically had a golden touch. Her endorsements have juiced the sales of products and books she mentioned on her show.
The price jump could also be the result of what is known on Wall Street as a "short squeeze."
About 75% of the company's shares had been held by investors betting the price would continue to fall. That is known as a short position.
It's a risky bet that can result in huge losses if a stock starts to rise. To cap those losses, short sellers may rush to buy, turning a mini rally into a big one.