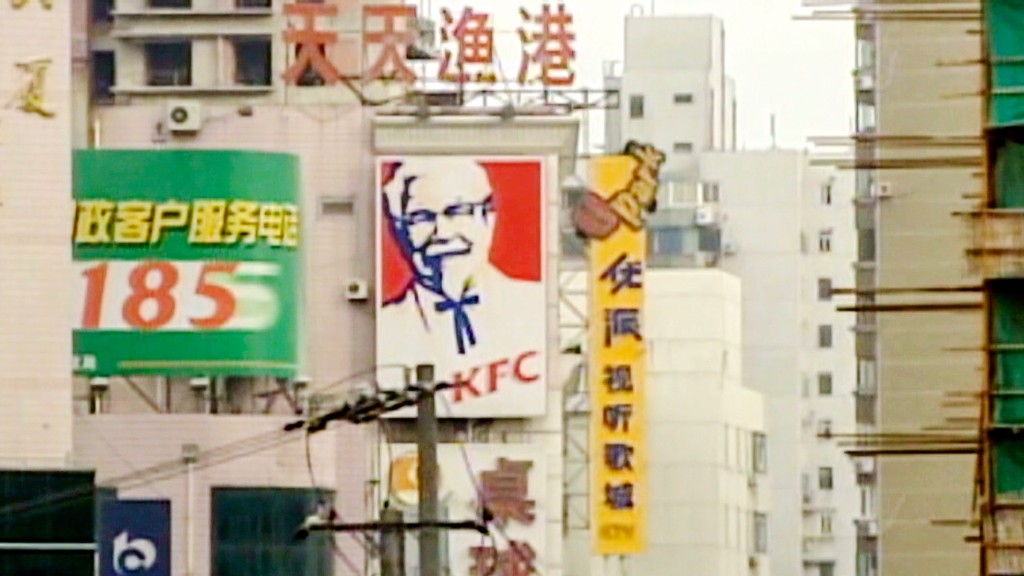 For years, Yum Brands provided a shining example of what an American company could do in China. Not anymore.
The owner of KFC, Pizza Hut and Taco Bell said Tuesday that it will spin off its China operations, an acknowledgment that herculean efforts to revive the chain's prospects in China were falling short after a series of food scandals hurt the company's reputation.
Yum will now trade as two distinct companies: Yum Brands and Yum China, which will operate under a franchise agreement and be run by a predominantly Chinese leadership team. It was not immediately clear how much money Yum China will pay Yum Brands as a franchisee.
Yum said it expects the spinoff, which follows a "rigorous review of strategic options," to be completed by the end of 2016. Keith Meister, an activist investor, had been pressuring Yum to separate its China business.
China had been a primary focus of Yum's plans for growing the fast food staples it owns. At last count, the company had opened more than 4,800 KFCs and 1,700 Pizza Hut outlets in the country. It planned to build hundreds more.
But the brand has been hammered by scandals over the quality and safety of food sold at KFC outlets in China.
In 2014, Yum was found to be selling tainted meat at KFC locations. The company immediately cut ties with its supplier, Shanghai Husi, but the action seems to have given consumers little consolation, and sales in China never totally recovered.
The fallout was immediate and intense. Worried consumers swore off Colonel Sanders' chicken, sales plummeted, and Yum launched a frantic marketing campaign to convince the public that its food was safe.
Related: China is bleeding money. $500 billion so far this year
Same-store sales in China declined last year, and the company still expects those figures to end 2015 in the red. The company acknowledged that its China revival was more difficult than anticipated.
An earlier scandal hit the company in December 2012, when a powerful state media outlet accused local KFC suppliers of cramming extra antibiotics into their chickens. In that case, it took Yum the better part of a year to get back on solid footing in China.