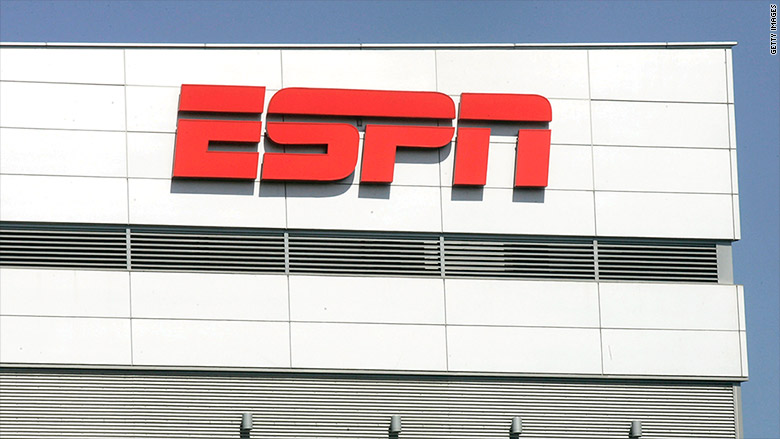 ESPN is undertaking mass layoffs this week.
The sports network informed employees about the cutbacks in an internal memo on Wednesday morning.
About 300 employees, nearly 4% of the network's global workforce, will be affected, according to network spokeswoman. The cuts will take place over a period of several days.
ESPN did not detail which departments or shows would be hurt the most. But information began to trickle out by Wednesday evening. Gus Ramsey, a 20-year veteran producer who recently became a talent coach at the network, said in a blog post that he'd been dismissed along with "a lot of good people."
"Many of them had been there longer than me," he wrote. "Many of them I had worked closely with on projects I am quite proud of. It sucks."
But Ramsey said he is not bitter, at least not yet -- "at first blush, I am grateful for my experiences over the last 20+ years."
The faces of ESPN -- hosts, reporters and commentators -- generally have contracts so they're not affected by the layoffs.
The internal memo from John Skipper, ESPN's president, called the cuts "necessary."
"No matter how many times we've adjusted course to lead the industry over the years, the decisions affecting our employees are never made lightly," he wrote. "It never gets any easier, but it's a necessary part of our continued strategic evolution to ensure ESPN remains the leader in sports as well as the premier sports destination on any platform."
The layoffs are seen as both a reaction to, and preparation for, wrenching changes in the cable television business. Cable channels like ESPN, which depend on subscriber fees, have been pinched by the small but growing number of viewers unsubscribing.
The network is also fenced in by long-term licensing deals with the NFL, NBA and other sports leagues. The costs of sports rights have soared in recent years as multiple networks have competed to carry live games.
Back in August ESPN's parent company, Disney, reduced its profit growth expectations for the network, citing these marketplace challenges.
Related: Big Media braces for new round of subscriber reports
Layoff rumors started not long after. The Big Lead, a sports news site, said in September that Disney had told ESPN to "trim $100 million from the 2016 budget and $250 million in 2017."
At the time, the network said in a statement that it wanted to inform employees before saying anything publicly about cutbacks.
Other recent moves by the network have been interpreted as cost-cutting. ESPN has said farewell to several top-dollar stars this year, including Keith Olbermann and Bill Simmons. Although there were many factors at play, price was one of them.
Related: Bill Simmons rails against ESPN during panel
It carries must-see TV, like "Monday Night Football," but comes with a high price tag, about $6 a month per subscriber, which is folded into customers' cable bills.
If more households drop cable, it'll become harder for ESPN to continue delivering profits to Disney.
On Wednesday Skipper sought to portray the layoffs as one of a "number of organizational changes at ESPN to better support our future goals."
In his memo he wrote, "We carefully considered and deliberated alternatives before making each decision."
Employees who are laid off will receive at least two months notice, he said, as well as a "severance package reflective of their years of service, and outplacement benefits to help them find future employment."