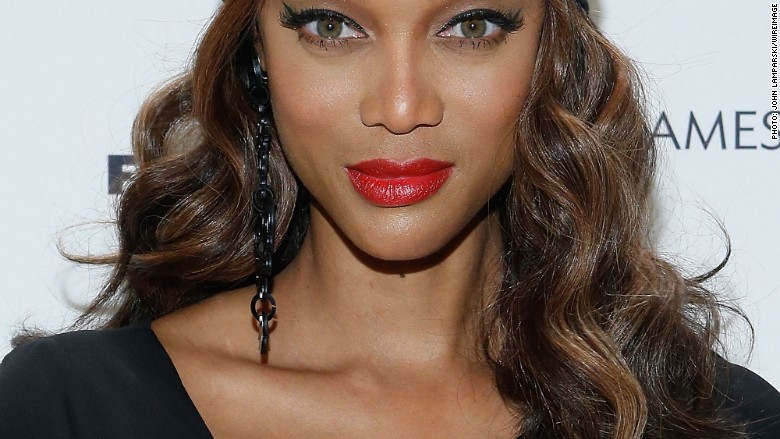 Former supermodel Tyra Banks is getting cozy with the tech community.
Banks took the stage at the Wall Street Journal tech conference on Tuesday to talk about female empowerment in tech.
Banks, who runs a beauty startup and has a new talk show on ABC, was an interesting choice.
The three-day conference features few female speakers. According to Gender Avenger, a startup that analyzes the gender ratios of conferences, just 15% of speakers at WSJD this year are women.
But Banks, who also invests in tech startups, has long been an advocate for female empowerment and breaking the proverbial glass ceiling. (She wore a t-shirt emblazoned with the words "I'm an entrepreneur, bitch" under her blazer.) The hurdles she climbed as a black model aren't dissimilar to diversity challenges in today's tech industry
"I had to break through those powers that be," said Banks of her modeling days. "I was the first black model on the cover of Sports Illustrated."
She said that female entrepreneurs need to persist. And men in power? They need to give women a chance.
"Do research about what female leaders can bring to you that a man cannot," she said. "Divorce a lot of these preconceived notions that we have as children [about] how we see women in the workplace."
Banks said she is so pro-women that she had to make a conscious effort to employ men at her beauty startup, Tyra Beauty, which she launched on year ago. (She also said she named a lipstick shade "Ask for a raise" to encourage women to do just that.)
The cosmetics startup has been self-funded to date, but Banks said she plans to fundraise in 2016 to grow even faster.
It's not all rainbows and revenue, though. Banks wasn't afraid to talk about her failures.
She addressed the conclusion of "America's Next Top Model." The reality show she hosted is going off the air later this year after a 12-year run.
"It's important to leave before they leave you," said Banks, who added that she's always been "pretty much obsessed" with pivoting and moving on to the next big thing.
She also addressed one of her failures. In 2012, Banks launched an app called Smize, after the term she coined that refers to smiling with your eyes. The app was supposed to let users upload a photo and facial recognition technology would alter it to create the ultimate "smize." It was a technological flop.
"Our facial recognition wasn't working ... it made everyone look like an alien," she said.
More from WSJD:
"All these private valuations are fake"