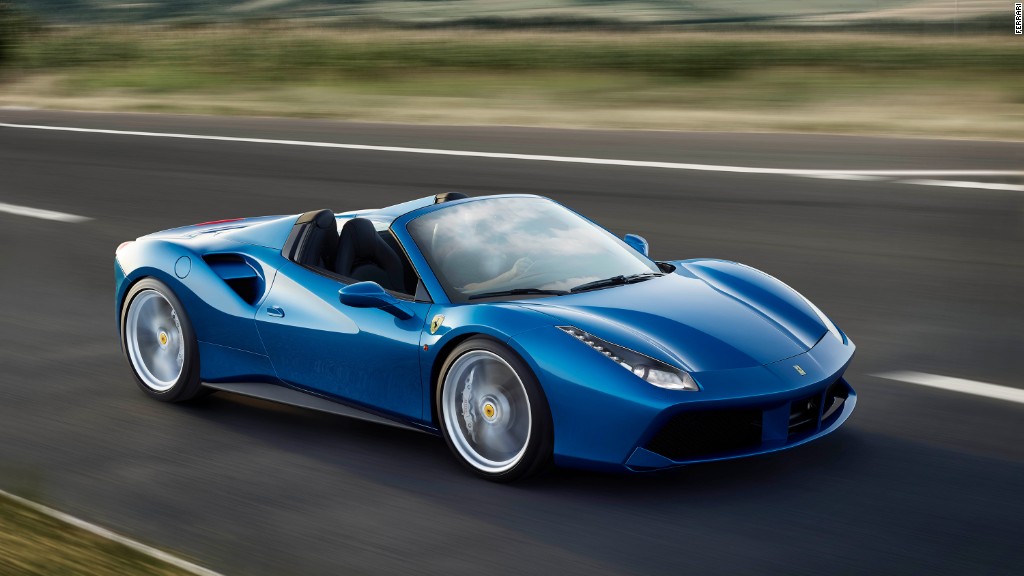 Ferrari gets top dollar for its cars. Now it's getting top dollar for its stock.
Shares of the Italian luxury sports car maker jumped about 13% in early trading Wednesday following its IPO on the New York Stock Exchange. Its ticker symbol is RACE.
Ferrari (RACE), which had been owned by Fiat Chrysler, raised $893 million through the sale of 9% of its stock late Tuesday at $52 a share.
Fiat Chrysler (FCAU) shareholders will be given the remaining shares as Ferrari is split off from the parent company.
The son of Ferrari's founder -- Piero Ferrari -- is expected to maintain his 10% stake.
Fiat Chrysler will maintain ownership of the Maserati sports car brand, as well as the Jeep and Dodge brands that were part of Chrysler Group.
The Italian-American automaker has enjoyed improved sales since Fiat bought Chrysler out of bankruptcy in 2009, but it is smaller than many of its rivals.
CEO Sergio Marchionne has been very public about his desire to merge or partner with a larger automaker such as General Motors (GM) in order to achieve the economies of scale needed to be competitive.
Related: How Ferrari maintains its mystique
But spinning off Ferrari won't have any effect on competitiveness of Fiat Chrysler's mass market car business. It makes some of the most exclusive cars in the world and has historically capped production at 7,000 vehicles per year to ensure demand always outstrips supply. Some customers wait years for the delivery of their new vehicle.
This strategy has made the Ferrari brand one of the most valuable in the world.
However, Ferrari has begun slightly expanding its production -- delivering 7,255 cars last year -- to ensure its waiting list doesn't get too long.
Ferrari reported 2.8 billion euros ($3.3 billion) in sales last year, with a profit of 265 million euros ($302 million).
Related: Ferrari - Hot cars, wild year
-- An earlier version this story incorrectly stated that that 10% of Ferrari shares were sold Tuesday evening. The correct figure is 9%.