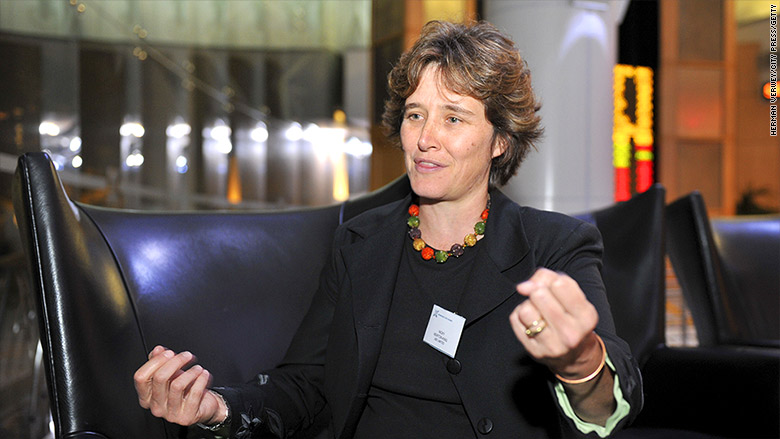 South Africa's stock exchange is winning awards, gaining value and winning over investors. And unlike many exchanges in the world, it's led by women.
The Johannesburg Stock Exchange's chair, chief executive officer and chief financial officer are women. Of its top management and executives, 70% are women, as are half of its board members and 52% of its staff.
Call it the "lean in" exchange.
"We almost have a gender problem now," with men, jokes Nicky Newton-King, CEO of the exchange. She spoke to CNNMoney during a recent visit to New York. "It's become a place where women want to work."
The New York Stock Exchange's parent company, Intercontinental Exchange, has one woman on its board of 11 directors. The London Stock Exchange's board has three women out of 12, and on neither exchange do women hold any of the top three jobs, according to information available on their websites.
Related: Watch out: strong dollar could trigger currency crisis
An ICE spokesperson says it has a "diversity of demographics," but declined to provide a gender breakdown of employees or management. The London Stock Exchange didn't respond to a request for comment.
The JSE, under its all-women leadership, is gaining credibility, hitting all-time highs and winning over investors.
The World Economic Forum named the JSE the world's best-regulated stock exchange for the last two years.
It's been a popular place to trade. Trades on the JSE are up 45% this year compared to last year, now up to 46 million. That's nearly double what it was in 2011.
The value of trades made on the exchange is also up 25% this year, according to the exchange.
Related: BRICS have had enough of western banking
It helps that stocks overall are up in South Africa. The JSE's all-share stock index is up 6% this year and hit an all-time high in April. (It's down 4% since that high but has rallied in recent months.)
The JSE's performance is impressive in a year that's been hard for developing economies, including South Africa. South Africa has many mining companies, which have been hurt by the steep decline in commodity prices.
For the JSE, the challenge is attracting retail investors from both inside and outside of South Africa. Most of the trading on the exchange is done among institutional investors. Retail investing makes up only 5% of JSE trading, something the exchange is trying to improve.
Newton-King says the exchange's gender diversity has helped it explore issues from multiple perspectives. Ultimately, she believes that's been the key to its recent success.
"You're able to tackle really difficult questions ... with lots of different perspectives," said Newton-King, who has worked at the exchange for 19 years.