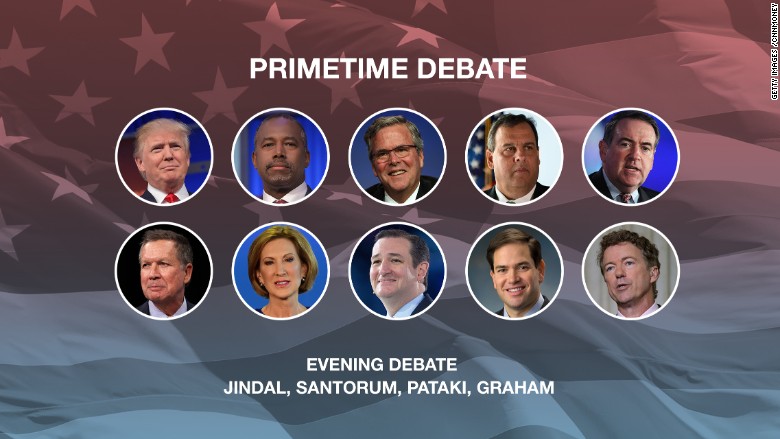 The third Republican presidential primary debate will once again be divided into two tiers: a main event with the top 10 candidates and an undercard with the rest.
CNBC announced Wednesday that the top 10 candidates -- Donald Trump, Ben Carson, Marco Rubio, Jeb Bush, Carly Fiorina, Ted Cruz, Mike Huckabee, Chris Christie, John Kasich and Rand Paul -- will appear on the main stage in Boulder, Colorado, at 8 p.m. ET on October 28.
That lineup will place Rubio near center stage alongside GOP frontrunners Trump and Carson for the first time. The junior senator from Florida has surged from fifth place to third place in the wake of strong debate performances and amid declining support for fellow Floridian Jeb Bush.
The four remaining candidates -- Rick Santorum, Bobby Jindal, George Pataki, and Lindsey Graham -- will take part in a separate debate at 6 p.m. ET.
The highly anticipated third round of the GOP contest is sure to be a boon to CNBC, a niche business news outlet that is likely to become one of the most-watched channels on the dial next Wednesday night. Executives at the channel are expecting a record-breaking audience for the main debate, given that the earlier ones on Fox News and CNN attracted well over 20 million viewers apiece.
The record-high ratings are expected to bring huge revenues. Earlier this month the New York Post reported that CNBC is asking for $250,000 for 30-second ads during the prime time debate.
An NBCUniversal source, speaking on condition of anonymity, said the channel continues to seek that amount for debate ad packages, which also include other ads before and after the event.
Some longtime CNBC advertisers will likely wind up paying less, but the source said the channel is seeing "strong demand" in the wake of record-high turnout for the Fox and CNN debates.
The debate will face stiff competition, however. Game two of the World Series is scheduled to take place that evening and is likely to draw some attention away from the debate.
The debates will be moderated by three of CNBC's best-known journalists: Carl Quintanilla, Becky Quick, and John Harwood. Several other CNBC hosts and commentators will join in the questioning.