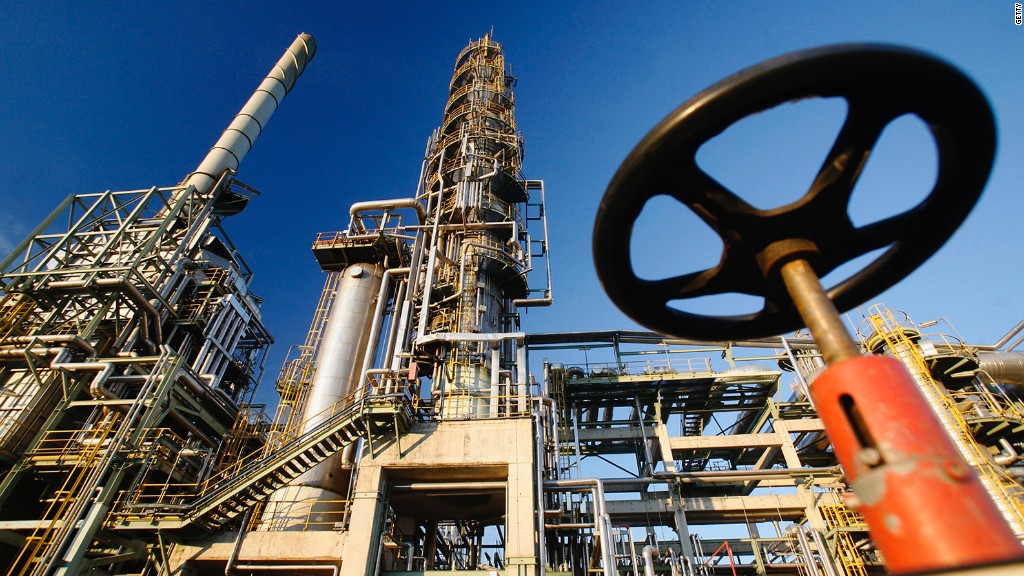 The economies of the Middle East are suffering a double whammy of cheap oil and widening conflict.
Growth rates have slumped alongside the near 60% fall in oil prices since June 2014, inflicting huge damage on government finances.
The International Monetary Fund warned Wednesday that it will take years for countries in the region to recover, particularly those in the Gulf that remain overly dependent on crude oil exports.
"If you add it up for all the six countries over the next five years it is a [budget] deficit of $700 billion," said Masood Ahmed, director of the Middle East and Central Asia at the IMF. "Look at the last five years when oil prices were going up and the same group of countries were running a budget surplus together of over $600 billion. So it is a huge fiscal swing."
Most exposed are the Gulf states of Saudi Arabia, Kuwait, United Arab Emirates, Qatar, Oman and Bahrain. Their collective budget deficit is running at 13 percent of GDP, according to the IMF.
This "fiscal swing" is sending tremors through markets. Regional stock markets have witnessed corrections over the past year. Real estate prices in Dubai are down nearly 10 percent, and even the wealthy sovereign funds of the region are starting to repatriate capital.
Related: Oil's wild ride isn't over yet
The IMF projects growth across the Middle East of 2.5 percent this year -- just half the rate of three years ago and down from 3% forecast in May. The slump has been even more dramatic for the region's oil exporters. They'll be lucky to generate growth of 1.8% this year, less than a third of the level achieved when oil was averaging $100 barrel oil or more.
Fallout from the oil price collapse is hardly surprising, but it's being made even worse by the fighting in Iraq, Libya, Syria and Yemen. This is weighing on the psyche of investors and consumers alike.
Related: Saudi Arabia's oil policy 'doesn't help anyone'
"Our report shows us that people believe there is a direct measurable impact of conflict in their neighborhood on investment growth and confidence in their own economies," Ahmed told CNN during an interview in Dubai.
This is especially the case for countries that border Syria: Lebanon, Jordan and Turkey. Ahmed said for every refugee that enters Europe, 10 times that number has fled those three countries since the crisis began.
The IMF is less pessimistic about 2016, but its forecast of four percent growth is dependent on sanctions being lifted on Iran and the security situation improving in the war-torn countries.