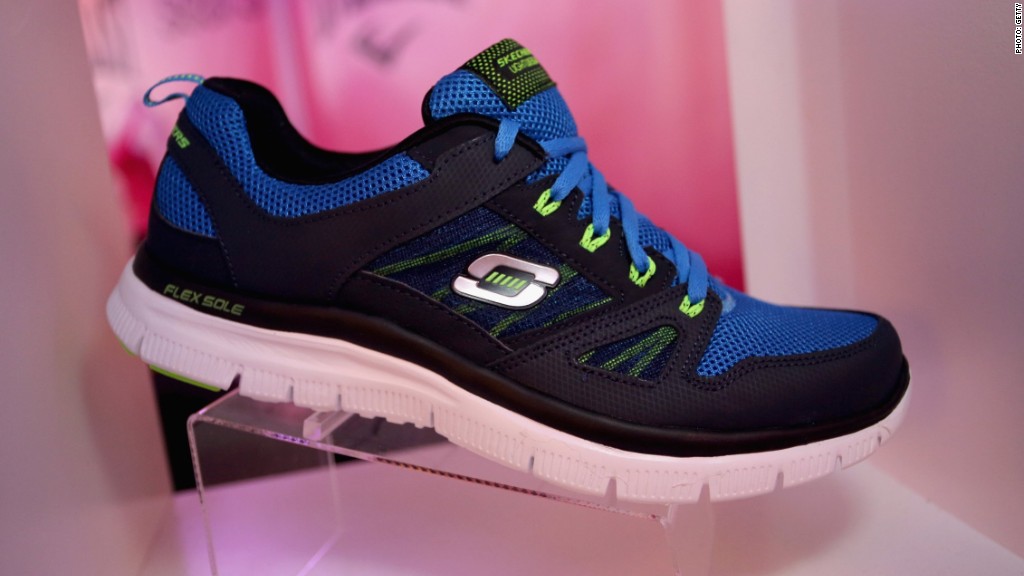 Quick. Guess which sneaker company is the hottest on Wall Street this year?
Nike? Under Armour? Adidas? No. Nope. And Nein.
Try Skechers. Yes, the company known mainly for its Shape-up brand of walking shoes, is on fire.
It's been a fantastic year for the whole footwear industry. Shares of Adidas (ADDYY) are up 30% while Nike (NKE) and Under Armour (UA), which reported solid sales and earnings Thursday morning, are each up about 40%.
But Skechers (SKX) is scorching. (Skorching?) The stock is up 150% so far in 2015. It's probably going to take a big tumble on Friday though. More about that in a bit.
Skechers has carved out a niche in the sneaker business. It's not really trying to compete with Nike, Adidas and Under Armour in the basketball shoe market.
Its top spokespeople aren't the likes of LeBron James, Steph Curry or James Harden.
Instead, Skechers is targeting younger girls with pop singers Demi Lovato and Meghan Trainor as endorsers. The focus is on style and comfort, not athletic performance.
Skechers has also shrugged off the bad PR it suffered a few years ago when the FTC charged it with making deceptive claims about how Shape-ups helped people lose weight.
The company paid $40 million to settle the issue, money that went to more than 500,000 customers.
Related: Skechers pays up for Shape-ups
But while Skechers has made style a bigger part of its ad campaigns, it isn't ignoring the sports world entirely.
It just announced it was becoming the new sponsor of the Los Angeles Marathon. And top U.S. long-distance runners Meb Keflezighi and Kara Goucher both endorse Skechers too.
Skechers also has some older athletes doing commercials for it as well. It's not just all about millennials (and that bass) with Trainor and Lovato.
Pete Rose appears an ad -- that makes fun of his banishment from baseball's Hall of Fame no less. Retired boxer Sugar Ray Leonard is a pitchman too.
Related: Skechers had Pete Rose in Super Bowl ad this year
And non-athlete Ringo Starr has also appeared in Skechers commercials. That shows the company clearly covets Gen X-ers and Baby Boomers too.
The strategy is working.
Retail research group NPD reported earlier this year that Skechers now ranks second in U.S. athletic footwear market share.
Granted, its 5% share is well behind Nike's dominant 62%. But the mere fact that Skechers is ahead of Adidas, Under Armour, Asics and others shows that its shoes are incredibly popular.
Sales at Skechers are up nearly 40% during the first six months of the year. Profits have more than doubled.
The company reported its third-quarter results after the closing bell on Thursday. The numbers were good -- sales rose 27% and earnings per share were up 30%.
But they missed forecasts. And that's an unforgivable sin for a Wall Street darling. Skechers needed to trounce Wall Street's estimates. The stock plunged nearly 25% after hours.
It makes sense. Shares of Skechers trade at more than 20 times 2016 earnings forecasts. So it's not cheap.
The disappointing results also shouldn't have been a huge shock given how Under Armour's stock did on Thursday. Momentum investors ran for the exits.
Under Armour's profit margins were slightly disappointing. The stock fell 5% as a result -- even though sales and earnings topped forecasts and the company issued a bullish outlook for the rest of the year.