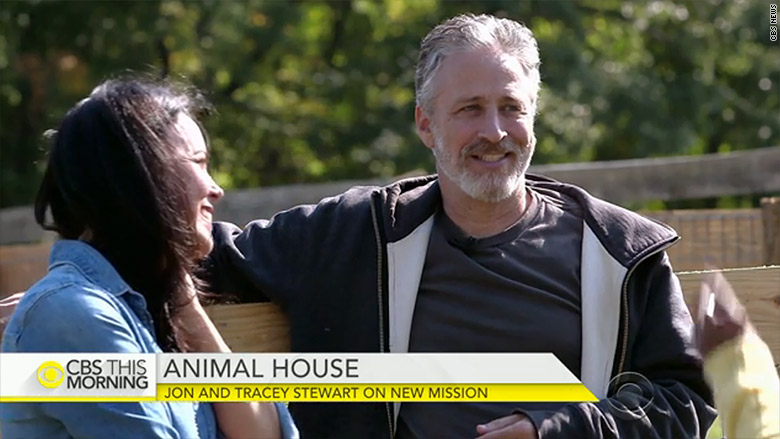 Since leaving "The Daily Show," Jon Stewart has not looked back.
The newly-bearded Stewart stays in touch with some of his former colleagues, but he doesn't miss the daily grind of the Comedy Central show one bit.
Why? "Because I feel like I completed it, you know?" he told Gayle King in an interview that aired on Thursday's "CBS This Morning."
"When you feel like you complete a project to the best of your ability, when you've done the best that you think you're able to do..."
Stewart trailed off, but suggested that there's a deep feeling of satisfaction. "So I can't regret -- all I can do now is be happy that I had that opportunity."
Stewart admitted to some restlessness before he gave up his anchor chair on August 6. In the new interview, he elaborated: "The joy is in creating it, in growing it, in evolving it. Maintaining it is the part that, when it becomes rote or redundant, then you feel like, 'Well, I'm not adding a lot of value to this anymore, am I?'"
Trevor Noah succeeded Stewart as host of the satirical newscast one month ago.
Related: Trevor Noah's first-night message to viewers: I'm not Jon Stewart
The interview — taped at a New Jersey farm he recently purchased — was one of Stewart's few public appearances since signing off. He has grown a thick beard in the past two and a half months.
"I grew a beard because everybody who quits a talk show grows a beard," he said at a standup performance over the weekend.
He performed two sold-out shows at the George Washington University's Colonials Weekend on October 17.
"People ask me if I miss it and honestly, I don't miss it at all," Stewart said, according to excerpts published by Politico.
He quipped, "No matter how much you like work, there's nothing better than not work."
The occasion for Stewart's appearance on CBS was the release of a book by his wife Tracey, founder of Moomah the Magazine.
Interviewed together on the farm, he said he now drives his children to school, takes the car to the car wash and picks up smoothies. She said he brags that "I'm the mayor at the smoothie store."
He also pursues new projects on his own schedule. "I still work. I get to write," he said, but he appreciates the newfound flexibility.
"Rather than just painting with three colors," he said, "I get to get the whole thing done."