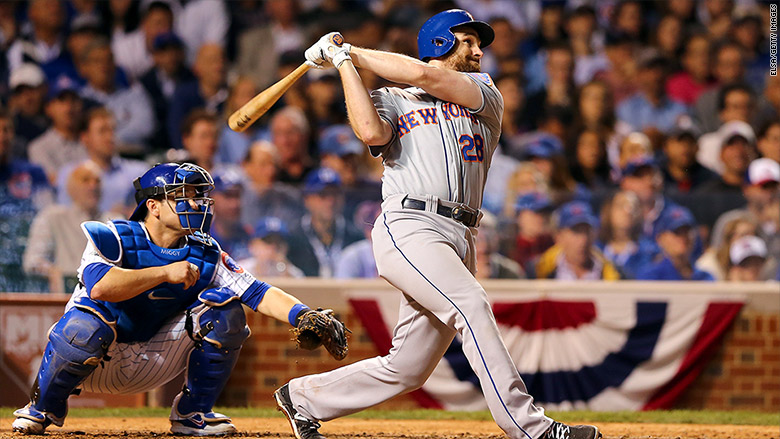 Daniel Murphy's postseason has been amazing, and his offseason will probably be even better.
The New York Mets second baseman has been on a tear during the playoffs. He's slammed seven home runs, including homers in a record six straight games, and is batting .529 as his team heads to the World Series.
The epic streak couldn't have come at a better time for the Mets -- and Murphy's bank account.
For the first time in his career, Murphy is about to become a free agent. That means he'll be able to seek a contract with a new team this winter.
$60 million paycheck in Murphy's future?
With his success, Murphy could get as much as $60 million over four years, said Vince Gennaro, a consultant on player salaries and director of Columbia University's graduate sports management program.
Before the playoffs, the best Murphy could probably have have hoped for was a three- or four-year deal worth roughly $40 million, Gennaro estimates.
That's a nice bump for a 30-year old player whose career earnings to date total $18.4 million, according to Baseball-Reference.com.
According to Gennaro, Murphy will likely enjoy the biggest financial lift any player has ever gotten from a single postseason.
The last player who had a great postseason just before free agency was Carlos Beltran. He hit homers in five straight games for the Houston Astros in 2004, then signed a seven-year, $119 million contract with the Mets.
Related: Mets World Series ticket prices exceed $1,000
But Beltran was then already a much bigger star than Murphy is today, and he would have been able to sign for nearly that much even without his great playoff performance.
Murphy would have been a much less notable free agent without this performance.
But even with his extraordinary postseason, it's doubtful Murphy will score a bunch of endorsements, said Bob Dorfman, an advertising executive and editor of the Sports Marketers Scouting Report.
Murphy probably won't have as much star power as some of his teammates in the long term. And Murphy has made comments about not approving of the gay "lifestyle," which could scare away some advertisers.
"Advertisers do not want anything that could polarize an audience, such as talking politics, talking sexual preference," said Dorfman.
A career with 62 home runs
Murphy's agents did not return phone calls seeking comment on the upcoming negotiations.
Numerous reports suggest that the Mets aren't all that interested in signing him again, despite his recent heroics.
Murphy is generally considered a poor defensive player, and Gennaro thinks it's more likely he'll end up in the American League, where the designated hitter rule would allow him to bat without playing the field.
Team general managers who make the decisions about signing free agents will still judge Murphy based on his full career rather than just this incredible postseason -- a career during which he's hit a total of 62 home runs over the course of seven years.
The bottom line: He'll probably be offered an eight-figure deal, rather than the mega-deal signed by Beltran 11 years ago.
"They can't expect him to continue at this pace. But they can hope that he's capable of rising to the occasion in the postseason. They may think 'that's the kind of player we want to add to our roster,'" said Gennaro.