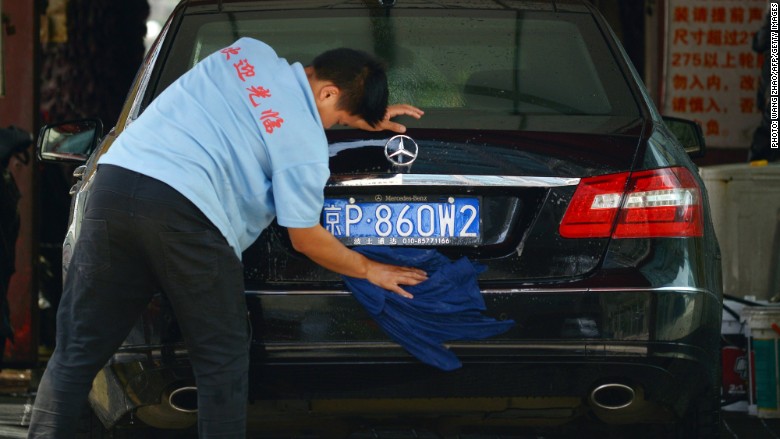 Here is some good news for the German car industry.
Daimler, the maker of Mercedes-Benz cars, reported record sales and revenues in the third quarter. Mercedes-Benz saw strong growth in western Europe, its biggest market, but its performance in China was even more impressive.
Sales of Mercedes cars in China were up 39% in the quarter, despite a slowdown in the world's second biggest economy and a crackdown on lavish spending by government officials.
Tim Urquhart, automotive analyst at IHS, said the luxury automaker's success in China was "spectacular."
It was helped by strong growth in compact car sales, and may also have taken market share from competitors such as BMW (BAMXY) and Audi, part of the troubled Volkswagen Group (VLKAY).
"The [Mercedes] S-Class remains the pre-eminent automotive status symbol in China," Urquhart said.
Daimler's (DDAIY) overall revenues were up 13% in the third quarter, compared to the same period last year, with the carmaker selling 720,000 vehicles worldwide. Of those, just over half a million were Mercedes cars.
Mercedes is aiming to become the world's second largest luxury carmaker this year. It is poised to overtake Audi in terms of sales, and has market leader BMW in its sights.
"We will do everything to put Daimler into the leading position," said Daimler CEO Dieter Zetsche.
Daimler's truck division also posted good results, with vehicle sales up 2%.
Related: German exports slump, China is to blame
But the good times in China may not last long. Daimler cautioned that it expects a "significant contraction of the market it addresses in China."
China's economy has just posted its weakest quarter of growth since the global financial crisis.
The slowdown and a government anti-corruption campaign has hit luxury spending in recent months. Burberry (BBRYF), Louis Vuitton (LVMHF), and Hugo Boss (BOSSY) all reported a slump in their business in China.