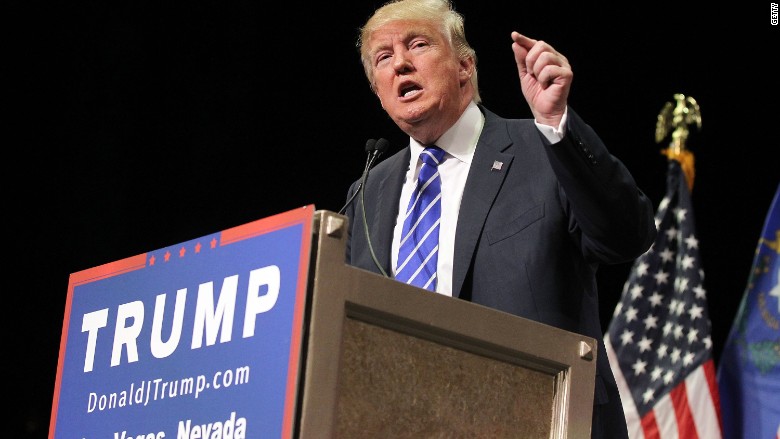 Is Donald Trump's presidential campaign preventing Univision journalists from covering his events because he is suing their parent company?
On Friday evening Univision staffers confirmed that they weren't given press credentials for a Trump rally at the candidate's resort in Doral, Florida. Univision is the most-watched Spanish-language network in the United States.
Jorge Ramos, one of the network's best-known anchors, tweeted that the journalists "were not allowed" to cover the rally.
A Trump campaign spokeswoman told CNN, "Mr. Trump is suing Univision for $500 million and until that is resolved it is a conflict of interest."
The spokeswoman did not immediately respond to questions about whether Univision journalists would be barred from future events.
Related: What really happened between Jorge Ramos and Donald Trump
The lawsuit was filed in June. It stemmed from Univision's decision to back out of plans to carry the Miss USA pageant, an event that was partly owned by Trump at the time.
Univision said it canceled the July 12 telecast because it could not remain in business with a presidential candidate who had offended many Hispanics.
In his June 16 campaign announcement, Trump had depicted Mexican immigrants as criminals and "rapists" before adding, "Some, I assume, are good people."
Trump's suit against Univision is slowly working its way through the courts. A preliminary hearing was held earlier this week.
Ramos and others at Univision have insisted that they are covering Trump's campaign fairly in spite of the ongoing legal action.
Related: Why Donald Trump is freezing out reporters at these two outlets
There have been dust-ups before, most memorably involving Ramos, who attended a Trump press conference and confronted the candidate in August. Ramos was briefly thrown out of the event before being allowed back inside for a lengthy exchange with Trump.
Ramos was not personally involved with Friday's coverage plan.
But several other journalists were. Lourdes Del Río, a Univision correspondent and anchor, tweeted in Spanish about being barred from the Doral event. "We were not told the reason," she wrote.
A representative for Fusion, an English language channel co-owned by Univision, said Fusion also originally received credentials for the event, but then they were revoked.
Reporters for the Des Moines Register haven't received press credentials for Trump events for months, a slight that they believe is related to a July editorial that said Trump should withdraw from the race.