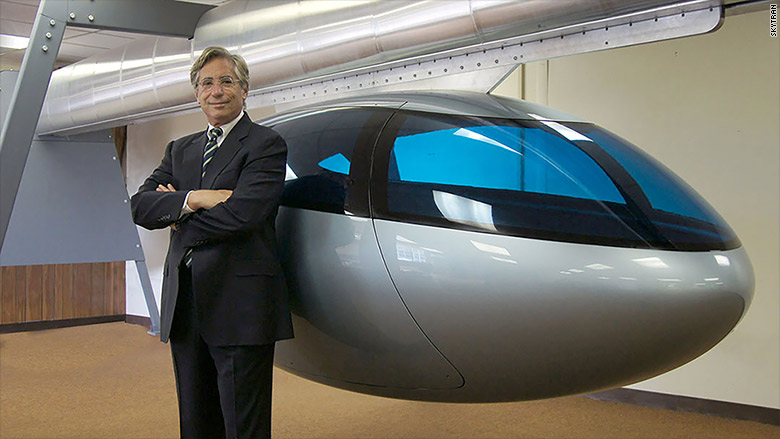 Sick of dealing with the daily traffic congestion on the road? Soon you may not have to.
SkyTran's sky taxis are making their debut.
The aerial mass transit system features "cars" that magnetically glide 20 to 30 feet above the ground along elevated tracks.
Skytran, based in Mountain View, California, has been developing the system for five years. The pilot project will debut in Tel Aviv at the end of October.
The system will run for about 900 feet on the campus of Israel Aerospace Industries, which partnered with SkyTran to develop the cars.
Initially, just one car will run on the track. The car, which can hold up to four people, can travel as fast as 60mph. SkyTran hopes to eventually add several more cars to its debut system.
Related: Floating train could whisk you from D.C. to N.Y. in an hour
If all goes well, the company expects to expand to at least three other Israeli cities and some U.S. cities by 2018.
An overhead mode of transport is cheaper and simpler to build than railroads and subways -- and it's also more environmentally friendly, said Jerry Sanders, CEO of SkyTran.
"It's why we think it's important for the public transportation system," he said, adding that underground systems can cost anywhere between $100 million and $2 billion a kilometer.
"Surface systems are expensive and eat up a lot of energy with their big infrastructure and carbon footprint," he said."
SkyTran, meanwhile, costs about $8 million a kilometer, and the cars cost between $25,000 and $30,000 each. "It also uses one-third the energy of a hybrid car," said Sanders.
Compared to the cost of maintaining and expanding existing mass transit systems, Sanders said SkyTran is a bargain for cities.
Related: What's most earth-friendly? Planes, trains, cars or buses
SkyTran's system is made from steel and aluminum. Sanders says the entire system can be assembled and installed in just a matter of days.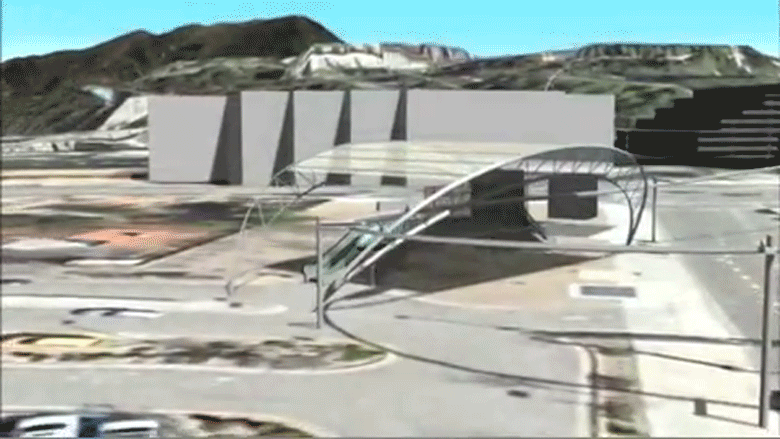 The system uses magnetic levitation technology to move the cars. In other words, electromagnets produce the lift and force to propel the cars forward, which makes the system energy efficient.
This technology is especially beneficial in countries where electricity isn't reliable.
Related: Hyperloop is the future of mass transit
Several U.S. cities have expressed interest in SkyTran's systems, said Sanders, including Baltimore and Inglewood, California. SkyTran hopes to begin building its system in Baltimore next year.
"Either one of those two cities could have our next pilot systems soon," he said, adding that major airports like Paris' Charles de Gaulle are also considering it.
Google (GOOG) chairman Eric Schmidt's venture fund Innovation Endeavors also made a multimillion-dollar seed investment in SkyTran. (Sanders declined to disclose the exact amount).
This, he hopes, will legitimize SkyTran's system as a credible transportation system of the future.
Correction: An earlier version of this story misstated the cost of the SkyTran cars.