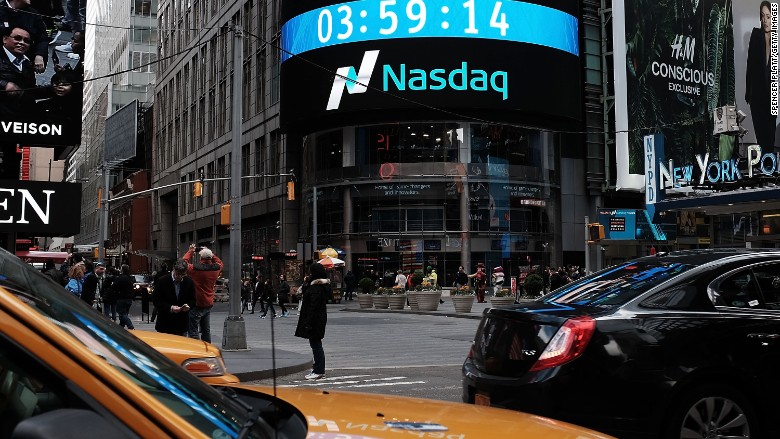 Nasdaq is making a bid to get closer to the Ubers of the world.
On Thursday, Nasdaq acquired a firm called SecondMarket Solutions, an exchange that enables current and former employees of private companies to sell stocks to accredited investors.
SecondMarket clients like Survey Monkey and Sonos allow employees to exchange shares several times a year. Companies control who buys and sells their stocks. This is important because shareholders have access to the company's financials, which private firms like to keep close to their chest.
The secondary market is growing in popularity as companies stay private longer, according to SecondMarket. The competition for tech talent is fierce, so giving employees the option to cash out on equity stakes can help firms attract and keep talent.
Nasdaq will bolster its own pre-IPO platform with the deal.
"They're just doing it to establish an early relationship [with private companies]," said Sam Hamadeh, CEO of data research firm PrivCo. "It's a perfect foot in the door."
That way, when SecondMarket customers do go public, they might be more inclined to list with Nasdaq, said Hamadeh.
SecondMarket has worked with many of the "most prominent private companies," processing more than $2.5 billion in transactions, according to Bill Siegel, who was the CEO of SecondMarket and will now head up Nasdaq's Private Market. (Nasdaq launched Private Market in March 2014; the SecondMarket team and products will join that group.)
As companies increasingly stay private longer, the issues of liquidity becomes one of concern. Investors anxiously await returns, but private companies seem to be in no particular hurry.
Take Uber, for example. Earlier this week, CEO Travis Kalanick said it's too soon for the company to IPO, despite the fact that it's the most valuable startup in the world, with a valuation of over $50 billion. And Uber isn't alone. Dropbox CEO Drew Houston said that he also felt no pressure to take his company public any time soon at the Wall Street Journal's tech conference this week.
SecondMarket has been around since 2004. It caught a lot of flak when one of its biggest clients, Facebook (FB), went public and its shares didn't hit their pre-IPO value. After that, SecondMarket changed its model so that private firms could control who was buying its shares.
But according to Hamadeh, the second market still struggles to gain the trust of private companies.
"There just aren't that many companies interested in trying to get liquidity for investors and employees early on," he said.
SecondMarket and Nasdaq declined to disclose the terms of the deal.