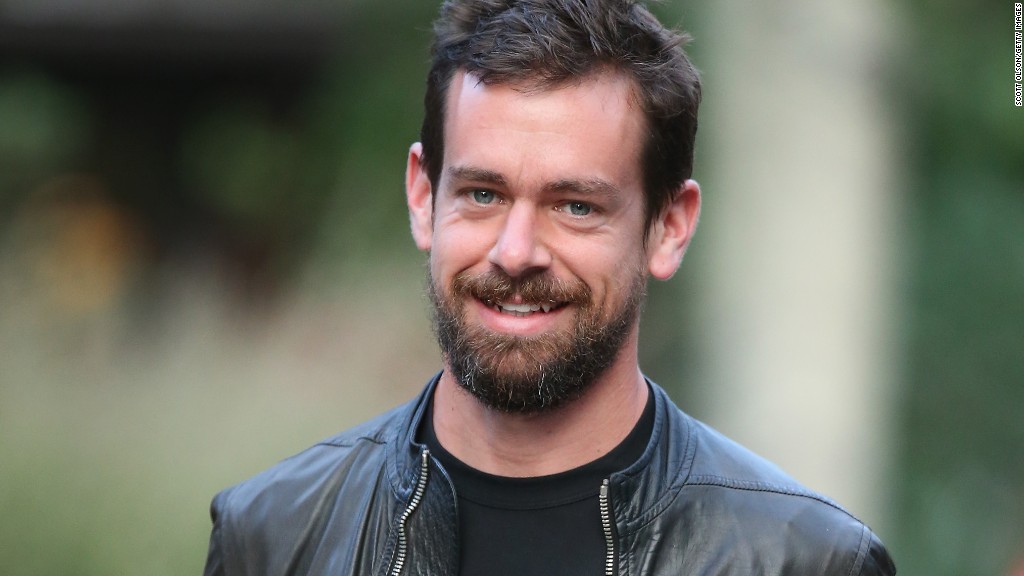 Twitter CEO Jack Dorsey has been racking up the nice guy points lately.
Dorsey has agreed to give one-third of his Twitter stock -- about 7 million shares -- back to the company for employee bonus pools.
The contribution is worth about $200 million.
Dorsey initially announced the news on Twitter Thursday night, and the company made it official in an SEC filing on Friday.
"Jack's giveback doesn't change the way we comp employees, it just means there are more shares in the employee equity pool that will get distributed from time to time for events such as promotions and new hires," a Twitter spokeswoman told CNNMoney in an email.
Just last week, Dorsey announced he would give 40 million shares of his other company, Square, to a new foundation that invests in under-served parts of the world.
He explained both moves the same way: "I'd rather have a smaller part of something big than a bigger part of something small."
Dorsey and his companies are under intense scrutiny and pressure right now.
Twitter has failed to gain the same kind of massive following as Facebook. Square is competing against several large mobile payment platforms, including Apple (AAPL)'s and Google (GOOGL)'s.
Dorsey was only named permanent Twitter CEO earlier this month after a long, speculative search and vetting process. Many questioned -- and still question -- his ability to lead two companies that need a lot of attention.
A week after he took over, Twitter (TWTR) let go of more than 300 employees to help the company become "more focused."
The very next day, Square filed paperwork for an IPO.
"We intend to make this big!" Dorsey wrote in a note on the SEC's S-1 form for Square.
He had the same level of enthusiasm and expectation regarding Thursday's news.
"I'm confident we can make Twitter big!" Dorsey tweeted.