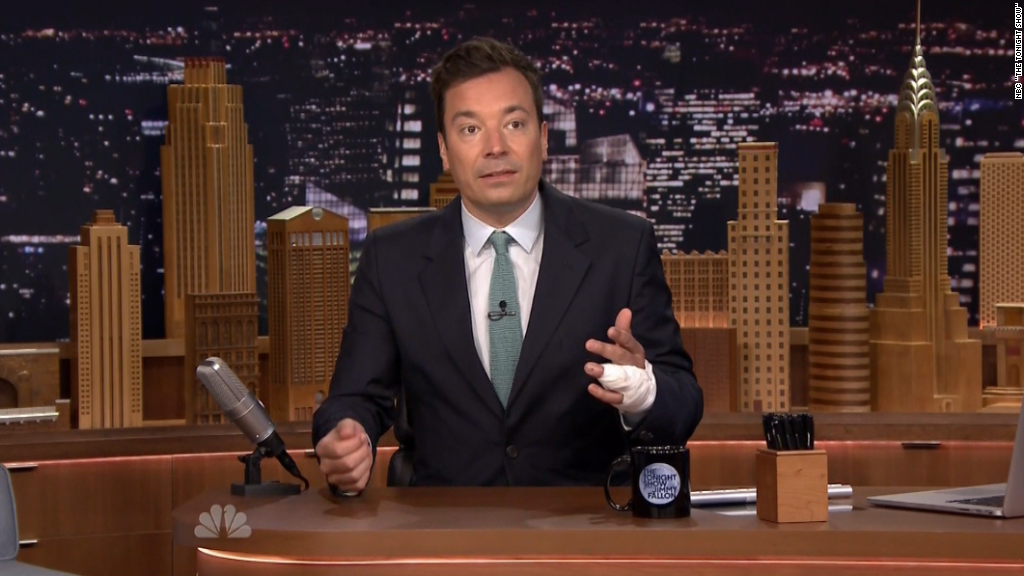 Someone should wrap Jimmy Fallon in bubblewrap.
The "Tonight Show" host injured his right hand after tripping and falling at an event at Harvard on Saturday. It's the latest in a string of recent accidents and injuries.
Fallon was celebrating at an event in his honor, having received the Harvard Lampoon's Elmer Award for Excellence in Humor, when he tripped over a woman who had bent down in front of him as he was turning around. Fallon fell onto broken glass, a Fallon spokeswoman said.
Following the fall, the NBC host went to Massachusetts General Hospital to make sure there was no glass in his hand. He checked out soon after and returned to the party.
One person in attendance, Ryan Schuster, posted a video to Instagram and YouTube showing Fallon, who was holding a bottle, taking the tumble.
On Sunday, the comedian posted a shot of his hand to Instagram. "Nothing that a few band aids couldn't fix," he wrote.
In June, Fallon nearly lost a finger on his left hand following a freak accident in his kitchen. The injury required a six-hour micro-surgery and put Fallon in the ICU for 10 days.
Then in August, Fallon posted a photo of himself with a chipped tooth caused -- ironically -- when he tried to open a tube of scar tissue repair gel for his injured finger.
"Thank you Dr. Jobe DDS!" Fallon wrote as the photo's caption in August." #BestSummerEver."
-- CNN's Henry Hanks contributed to this report.
Related: Jimmy Fallon's latest injury: a chipped tooth