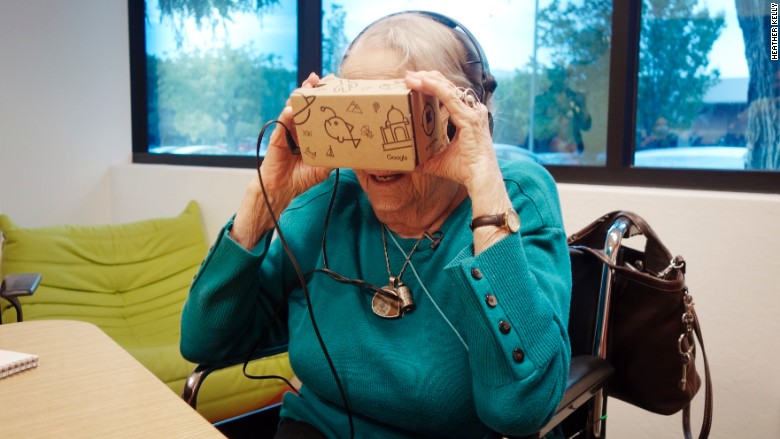 Olive Horrell does not look impressed.
The 97-year old is holding a Project Cardboard viewer, Google's DIY virtual-reality headset. It resembles an old View-Master toy.
"This is old fashioned stuff! Way before your time," she says.
She puts on headphones, holds the viewer up to her eyes, and her jaw immediately drops. Spinning around in her wheelchair, Olive excitedly shouts and points at things only she can see. When the virtual reality tour is done, Olive is momentarily speechless.
"There's no way I can understand that," she says finally. "The horse. I was so sure I could touch the horse."
Google employees have succeeded at blowing Olive's mind for the sixth time today.
Olive is on a special VIP tour of Google's Mountain View campus organized by Wish of a Lifetime, a nonprofit that grants senior citizens' wishes, and Brookdale senior living.
Google co-founder Sergey Brin is one of Wish of a Lifetime's biggest individual donors.
It took her three years to decide, but Olive finally settled on her wish: She wanted to see the future.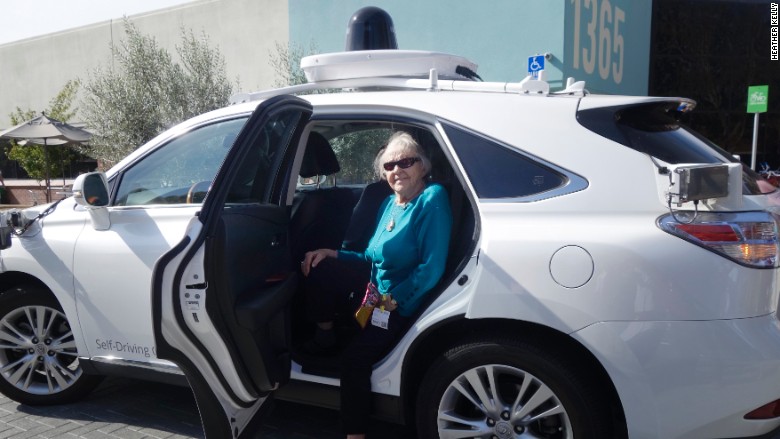 Olive grew up on a farm in rural Montana. She had no electricity, didn't know what a radio was, and got around by horse and buggy. She moved to California at age 8, lived through the Great Depression, and has witnessed an incredible amount of technological change in her lifetime.
She still remembers the first computer she saw. It used punch cards and was about 3-by-3 feet.
Now she's at Google (GOOG), one of the largest and most innovative technology companies in the world, talking to top engineers about The Cloud. She wants to know what it is and why it's "up there."
Earlier in the day, Olive took a ride in one of Google's self-driving cars. She liked it, but was more impressed by her visit to the Google Doodle department, where she helped color her own custom Doodle with a stylus on a touchscreen computer.
A tour of the campus wound past the volleyball court, a mobile pizza oven, racks of colorful Google bikes and the "Chrometober fest" fall party. Some "Greyglers," older Google employees, joined her for a sit-down lunch at one of 22 on-campus kitchens that feed Google's 20,000 local employees.
Everything reminded Olive of a college. "You don't have to grow up," she said.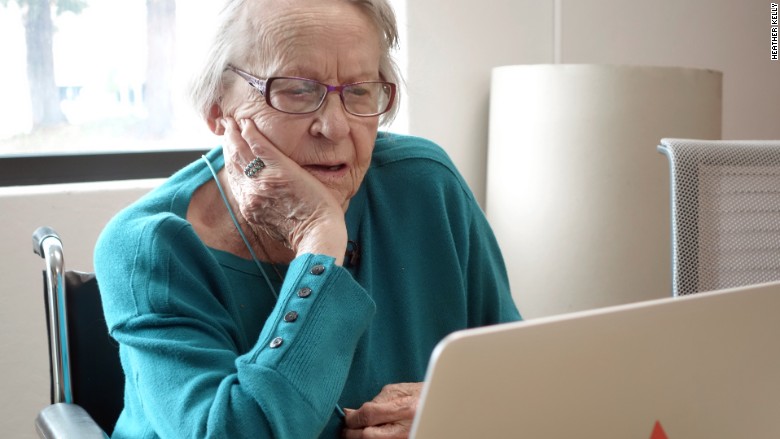 Once an avid traveler who took kayaking expeditions and went mountain climbing in Nepal, Olive was blown away by Google Translate. She tested out the Liftwear spoon, designed to help people with tremors feed themselves. Then Olive watched in disbelief as Google Photos' face detection figured out a baby in a photo was the same person as a thirteen-year old girl.
"Push a button and you have history right in front of you," she said. "This is very mind-boggling for me."
For the Google employees and others who deal with this technology every day, it was an opportunity to see modern technology through fresh eyes. A reminder of how amazing it all really is.
For Olive, the highlight of the day wasn't futuristic technology, but thanking someone for an act of kindness.
Wish of a Lifetime founder Jeremy Bloom doesn't drop in on every wish -- the organization grants about one wish a day. Granted wishes have included reuniting three sisters, all in their hundreds, and taking a Mississippi woman to see the ocean for the first time in her life.
But Bloom couldn't pass up a trip to Google to meet Olive.
A former two-time Olympic skier and NFL player who now runs a tech company in Arizona, Bloom founded Wish of a Lifetime years ago, inspired by his own grandparents.
"You're such a gentle soul, it's just been lovely to meet you," an emotional Olive told Bloom, holding his hand. "Most of the time we aren't seen, as you know."
She thanked him for the day, a wish three years in the making that did not disappoint.
"Certainly in my wildest dreams, I couldn't conceive of what I saw today."