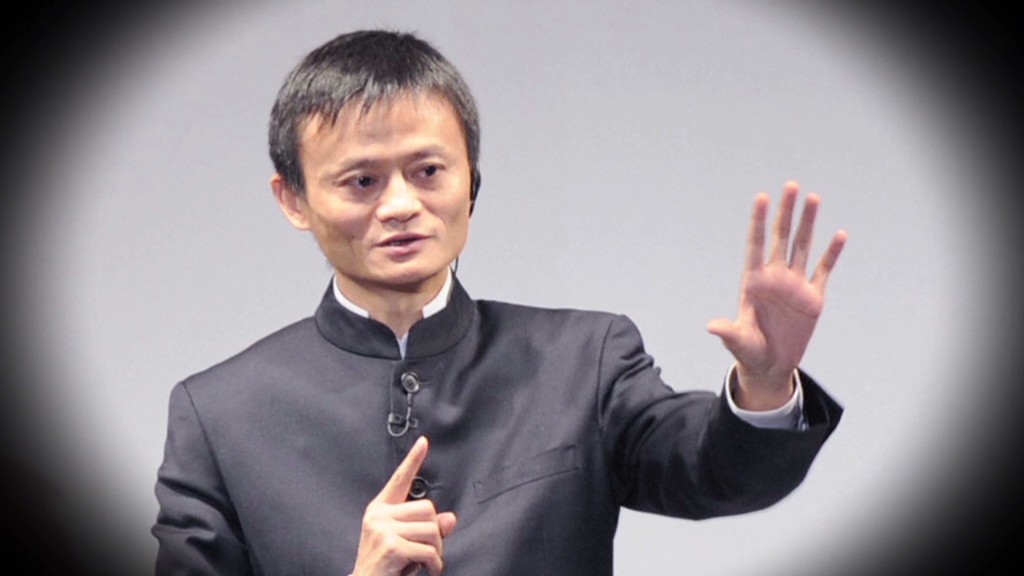 China slowdown? What China slowdown?
E-commerce giant Alibaba reported third quarter sales and earnings Tuesday that easily topped Wall Street's forecasts.
Alibaba's revenue surged 32% in the quarter from a year ago, led by an explosion in mobile use by Alibaba customers.
The company ended the quarter with 346 million mobile monthly active users, an increase of nearly 60% from last year. Mobile revenue was up almost 200%.
"This was a great quarter for Alibaba Group, with strong growth across the board and particular outperformance in mobile," said Alibaba CEO Daniel Zhang in a press release. "We are winning in mobile and remain focused on our top strategic priorities."
One analyst said Alibaba did a great job of promoting its Taobao mobile app to consumers and retailers in the quarter.
"Alibaba deserves credit for taking a lead in terms of shifting its proposition and platforms firmly away from PC to mobile based selling," said Neil Saunders, CEO of retail research firm Conlumino, in a report Tuesday morning.
Alibaba also reported that sales in its small cloud computing business more than doubled in the quarter. Alibaba is trying to become a bigger player in this market, an area that has turned out to be incredibly lucrative for American rival Amazon (AMZN).
Shares of Alibaba rose 4% on the news. It's the latest sign that, after a rocky summer, the Chinese economy may be starting to stabilize a bit.
Alibaba (BABA), like the rest of the Chinese stock market, has enjoyed a stunning comeback lately. Shares are up nearly 35% since hitting their lowest point ever on September 29.
The company also recently announced plans to purchase the remaining portion of Chinese online video site Youku Tudou (YOKU) that it didn't already own. Youku Tudou is often referred to as China's YouTube.
And despite worries about China's economy, Alibaba has high hopes for the upcoming Singles' Day in China -- November 11. It's sort of like Cyber Monday in the United States and has typically been a huge source of sales for Alibaba and other online retailers.
"We just don't think the current macroeconomic situation will affect consumption patterns," said Alibaba vice chairman Joe Tsai during a conference call with analysts. He noted that Chinese consumers still have a lot of cash in their bank accounts, and that wage growth has been strong for the past few years.
Related: Alibaba offers $3.6 billion to buy Chinese online video site
But Alibaba's stock is still down more than 20% this year and 30% below the all-time high it hit in the first few months after its IPO.
Alibaba co-founder and chairman Jack Ma has even lamented the fact that he ever took Alibaba public in the first place.
Investors have been concerned about Alibaba's valuation since its IPO more than a year ago. The stock surged 38% on its first day of trading. Alibaba, which boasts a market value of nearly $200 billion, is worth more than Walmart (WMT).
Questions about the stock's price resurfaced last month after investing magazine Barron's published a highly critical cover story with the headline "Alibaba: Why It Could Fall 50% Further"
Alibaba took issue with some of the facts in the story, but Barron's has defended it.
Alibaba also faces increased competition, particularly from JD.com (JD), which is backed by the Chinese mobile giant Tencent (TCEHY) and Saudi Prince Alwaleed bin Talal.
The company has also been plagued by concerns about counterfeit goods on its Taobao and Tmall marketplaces.
China's State Administration for Industry and Commerce even looked into the issue earlier this year.
That prompted the Securities and Exchange Commission to open an inquiry into Alibaba as well since Alibaba is publicly traded in the United States.
But Alibaba said Tuesday that the SEC has told it that its investigation is complete and that there will be no enforcement action taking against the company.
Alibaba's good news is also a blessing for Yahoo (YHOO), which plans to sell the nearly 384 million shares of Alibaba that it owns before year's end.
Yahoo, which has struggled to turn its core business around, has pretty much traded in lockstep with Alibaba so far this year. Shares were up nearly 3% Tuesday.
But Yahoo CEO Marissa Mayer said last week that the sale, which will be done by spinning off the Alibaba shares with other Yahoo assets as a separate company, may be delayed until next year.
The IRS hasn't yet given Yahoo preferential tax treatment for the spinoff.