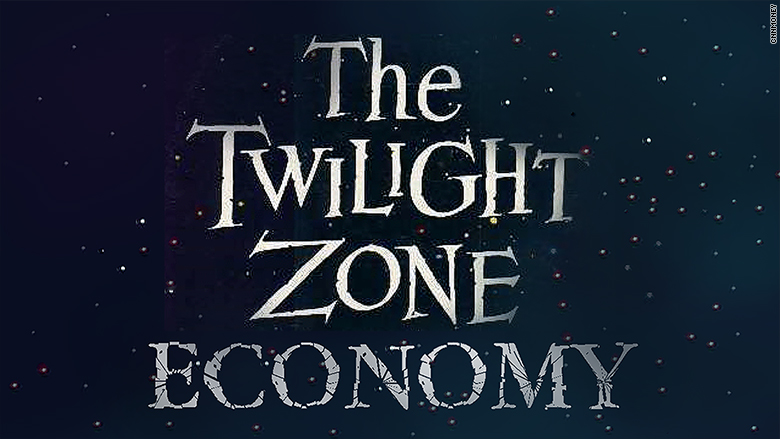 One of the biggest jokes on Wall Street is when someone says, "It's different this time."
And yet, it's tempting to talk that way about the U.S. economy.
America is stuck in low-gear, something we really haven't seen before. It's moving forward, but at a disappointing pace.
"We seem to be in this Twilight Zone between boom and bust," says Ed Yardeni, president of Yardeni Research.
Consider the numbers: America averaged over 3% growth a year from 1969 to 2007. Lately, the U.S. is stalling at just over 2% GDP.
This year was supposed to be America's breakout moment. But that's almost certainly not going to happen. Macroeconomic Advisers predicts 2.4% growth for 2015 -- exactly the same as last year.
Related: It's Oktoberfest for stocks!
No one knows what to do in this 'Twilight Zone'
Being stuck in the "Twilight Zone" is vexing everyone from Wall Street to Washington to Main Street.
Uncertainty reigns.
Businesses are back at record profits, but they're hoarding cash.
Americans are finding jobs again and enjoying cheap gas prices, but they still feel uneasy. More than three out of five people say they are "sometimes" or "frequently" anxious about their financial situation, according to a new survey by radio show Marketplace.
The Federal Reserve keeps saying it sees a "moderately improving" economy, yet it won't raise interest rates off 0% -- an historic low. (The Fed is widely expected to keep rates unchanged when it meets Tuesday and Wednesday this week).
Political candidates talk about making America great again and boosting the middle class. It's basically political speak for how they can improve the Obama economy.
Related: Americans rate the U.S. economy as 'fair'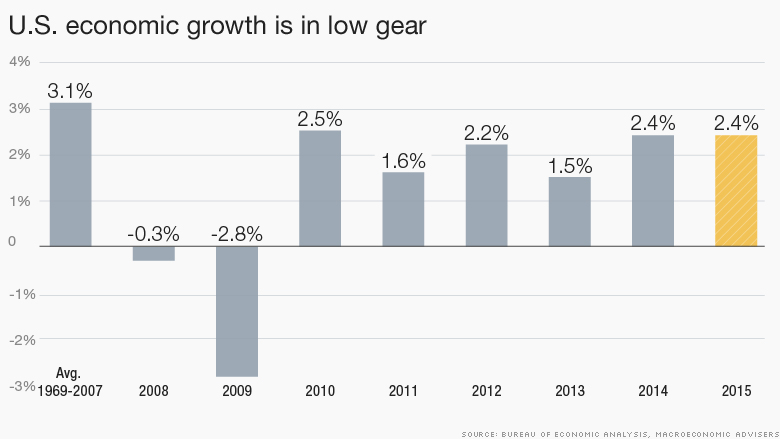 Little sign of a boom -- or bust -- on horizon
So where does America go from here?
Optimists like Yardeni argue that America can probably keep going in this Twilight Zone for a long time. We could be in for years of slow, but relatively steady, growth.
"History suggests what creates busts is booms," Yardeni told CNNMoney. Right now, there's little evidence of an economy overheating -- and thus little worry about a looming recession either.
Former Treasury Secretary Larry Summers sees pretty much the same scenario as Yardeni, where the U.S. economy continues to run below its potential. Instead of calling it the Twilight Zone, he dubs it "secular stagnation."
"Throughout the industrial world, the vast majority of the revisions in growth forecasts have been downwards for many years now," Summers concluded in April.
Related: Americans are driving more than ever
Americans are spending just enough to power U.S. forward
The American consumer continues to power the economy. Consumption makes up about 70% of the nation's economy. It's why the U.S. is still growing while many other parts of the world struggle.
People are buying again, although selectively. Car sales are at a post-Recession high, and Americans are doing "mini-splurges" where they eat out and go on vacation more.
But the question is whether Americans will continue to spend enough to offset the turbulence abroad.
The global economy is fragile. China is slowing. That's sending many emerging market countries -- and even Canada -- that relied on exporting natural resources to China into recession. On top of those concerns, Europe and Japan aren't picking up much and the strong dollar is hurting U.S. companies that do business abroad.
Related: Dividends, stock buybacks to hit a new high of $1 trillion in 2015
The U.S. could stay like this for a long time
Sam Bullard, senior economist at Wells Fargo (WFC) Securities, refers to the current environment as "two different story lines" -- the weak global economy versus the moderately growing U.S.
Heading into the big holiday season, Americans are likely to keep spending -- at least enough to keep growth chugging along at its current pace.
So little is likely to change in the coming months. Oil will stay cheap. The U.S. dollar will stay strong. China and emerging markets will stay queasy. The Fed will probably sit on the sidelines watching it play out. The stock market will likely remain volatile.
It's a frustrating environment. There's little to suggest a breakout -- or breakdown -- moment is coming.
But as Mr. Bloom says in the original "Twilight Zone" film, "The day we stop playing is the day we start getting old."