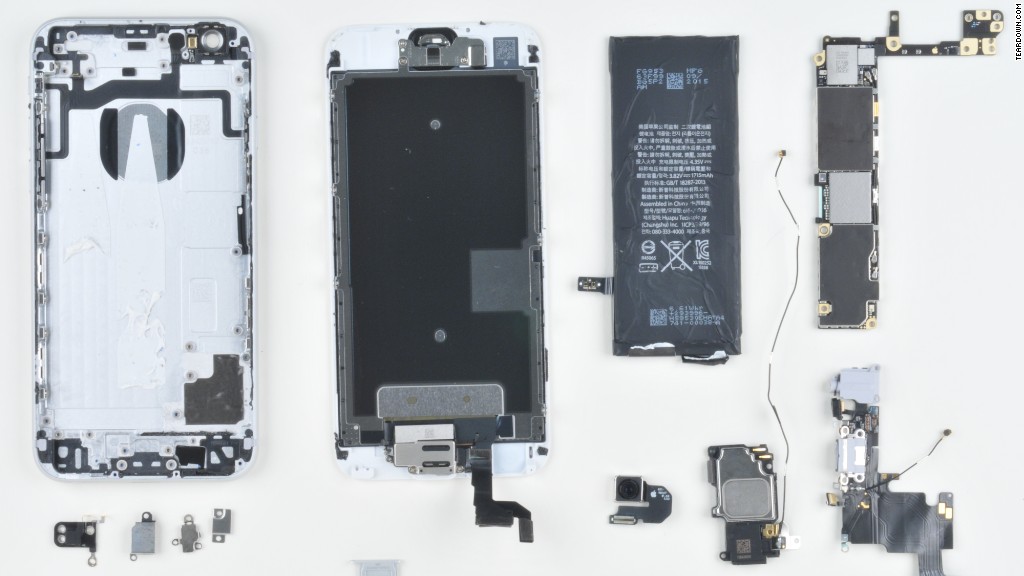 The experts said it couldn't last, but Apple just keeps finding new ways to maintain its startup-like growth.
Apple's profit jumped 31% last quarter, as customers continued to buy more expensive iPhones.
The average price that Apple customers spent on iPhones was $670 last quarter, up an impressive $67 from a year ago. The iPhone 6S Plus and iPhones with more storage have remained popular, and the costlier iGadgets mean higher profit margins.
The company sold 48 million iPhones last quarter, which was 22% more than it sold during the same period a year ago. But the money Apple made from those iPhone sales grew even more -- 36% -- over last year.
Customers were also buying Macs in droves. Sales grew 3% last quarter to 5.7 million -- an all-time record.
Even Apple's mysterious "other products" category had an outstanding quarter. Sales of those gadgets, which include iPods, Apple TVs and Apple Watches, grew 61% over last year. Apple still won't say how many of each of those product lines it sells, but something is catching on: Those gadgets brought in a collective $3 billion in sales last quarter.
Apple's services, including Apple Music, the iTunes App Store and music store, and iCloud, brought in a record $5.1 billion in sales.
Yet iPads continued to be a sore spot for Apple. The company sold fewer than 10 million tablets, which was 20% fewer than it sold a year earlier.
Crucially, sales in China, which is Apple's second-largest market behind North America, grew 99% -- even as the economy continued to face struggles there. China is by far Apple's fastest growing market, and the company still believes that it will one day be its biggest.
Apple's overall sales rose 22% to $51.5 billion.
And Apple ended the quarter with a stunning $206 billion in cash.
Shares of Apple (AAPL) rose slightly after hours.
Can Apple keep growing?
The company said it expected sales of between $75.5 billion and $77.5 billion during the current quarter. If revenue lands anywhere in that range, it would be an all-time Apple sales record for any quarter. Yet Apple's outlook was a bit softer than Wall Street's expectations.
On a call with analysts, the very first question Apple CEO Tim Cook got was about whether the company's long record of growth was about to end.
Cook said he wasn't worried. He noted that the company's outlook reflects the stronger dollar, which has stunted growth for many global companies. Excluding the effects of currency changes, Cook said the company would grow between 8% and 11% this quarter.
He also noted that demand for the iPhone remains strong, and there is plenty of growth left for Apple's top product. More Android users are switching to the iPhone than ever before, and there are many cellphone customers who still don't have 4G smartphones.
The annual iPhone upgrade programs that Apple and the major wireless carriers are promoting will also help drive sales, Cook said.
He also expects Apple to have a very happy holidy season: This quarter, Cook said Apple will likely sell a record number of iPhones, besting the 74.5 million iPhones sold during the last three months of 2014.