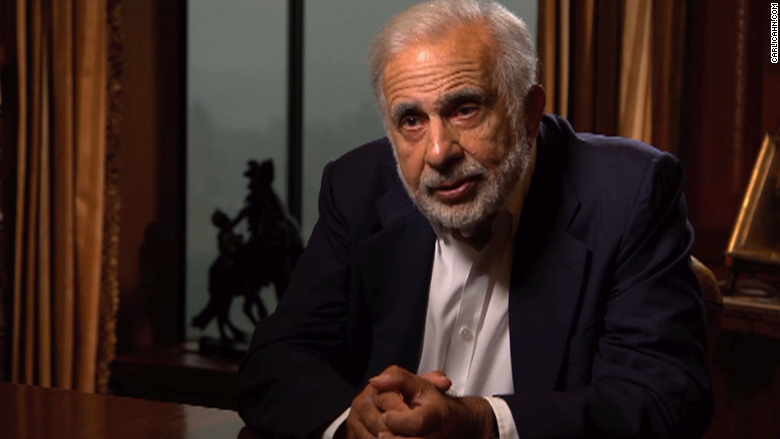 Seven years ago AIG was deemed "too big to fail" without jeopardizing the global financial system.
Now the insurer is apparently "too big to succeed."
At least that's the case billionaire Carl Icahn is making. The investor revealed a stake in AIG (AIG) on Wednesday and made a forceful case for why the company needs to split itself up.
One AIG isn't enough for Icahn -- he wants it in three bite-sized pieces consisting of three different insurance businesses.
"There is no more need for procrastination, the time to act is now," Icahn wrote in a letter to AIG management that he released on Wednesday.
Icahn: Too much regulation is hurting AIG
AIG was rescued by a massive $182 billion bailout from the U.S. government during the financial crisis because regulators feared its imminent collapse would crush the economy.
Under the post-crisis rules, AIG is today considered a "systemically important" financial institution, which means it has to keep enough capital, or cash, on hand to protect against the risk of a failure.
Rather than fight an "onerous regulatory burden," Icahn wants AIG to shrink itself voluntarily.
"It's a 'no-brainer' that the simple act of splitting this company up will greatly enhance shareholder value," Icahn wrote, calling the current strategy "void of decisive leadership."
Related: Trump's friend Carl Icahn will spend $150M to fight Congress
AIG is beating the market this year
Wall Street seems to like what Icahn is calling for. AIG shares rose 3% on Wednesday morning after Icahn released his letter.
AIG's stock has actually performed pretty well lately. It's up 12% so far this year, easily besting the flat S&P 500 and its insurance peers.
By comparison, life insurer Prudential Financial (PRU) is down 10% in 2015, while Travelers (TRV) is up almost 8%. Property and casualty insurer Chubb (CB) has soared 26% this year.
AIG CEO Peter Hancock responded to the Icahn news by saying the company "maintains an open dialogue with all our shareholders and welcomes their feedback and ideas."