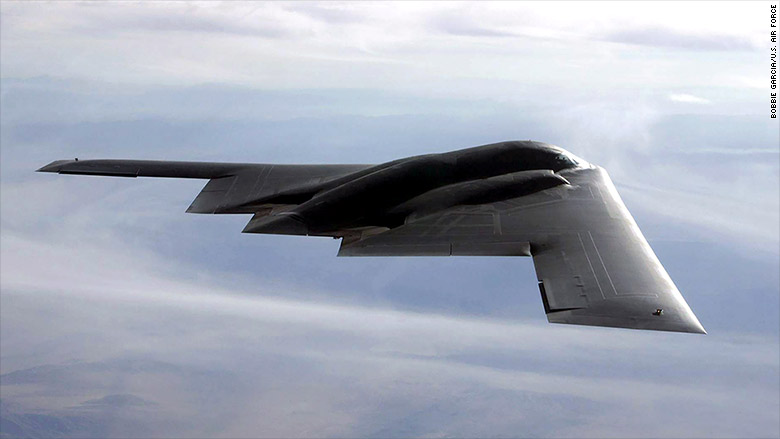 There's nothing stealthy about Northrop Grumman's stock performance Wednesday.
The defense contractor's stock surged 7% to an all-time high after the Pentagon awarded a new contract to Northrop to build the next Long Range Strike Bomber.
Northrop (NOC) already makes the current B-2 Spirit bomber.
"The Air Force has made the right decision for our nation's security," said Northrop CEO Wes Bush. (Before you ask, he's not related to the former presidents and current Republican candidate.)
"As the company that developed and delivered the B-2 Spirit stealth bomber, we look forward to providing the Air Force with a highly-capable and affordable next-generation Long-Range Strike Bomber," Bush added.
Affordable is an interesting word choice though.
Related: The new bombers will cost $550 million each
The Defense Department said late Tuesday that it planned to spend $23.5 billion on development costs for the new planes. When all is said and done, the contract's value could be worth $80 billion.
That's a big boost for Northrop, which also wowed investors Wednesday morning with better-than-expected sales and profits as well as strong guidance.
The Air Force was deciding between Northrop and a partnership of defense rivals Boeing and Lockheed Martin for the new stealth bombers.
Shares of Boeing (BA) and Lockheed (LMT) were flat Wednesday morning.
But even though Boeing and Lockheed lost out on this huge windfall, they are still in favor on Wall Street. Both stocks have outperformed the broader market this year. So have Raytheon (RTN) and General Dynamics (GD).
Defense stocks have done well despite military budget cuts that were put into place a few years ago as part of the so-called sequester in Washington.
A separate war fund has helped the industry, particularly since the Pentagon stepped up its efforts against ISIS last year.
Defense contractors are also investing heavily in cybersecurity in order to take advantage of the growing demand in that market following high profile hacks of several big retailers and banks.
CNN's Zachary Cohen contributed to this report.