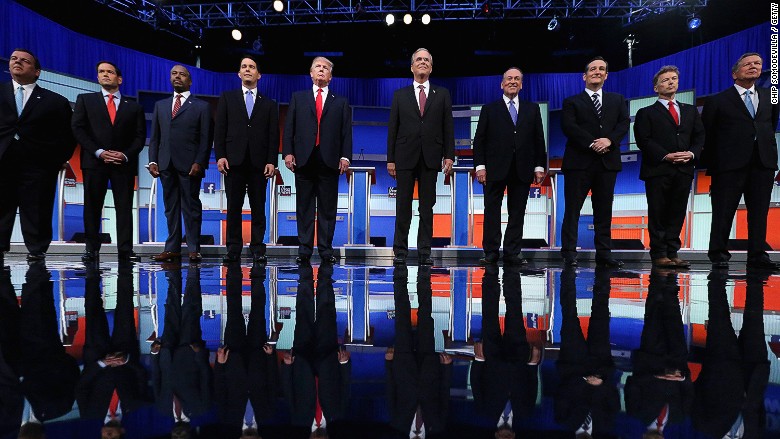 The 2016 Republican primary debates have so far been remembered more for style than substance. Donald Trump sparring with Megyn Kelly, Chris Christie going head-to-head with Rand Paul, Carly Fiorina rebuffing Trump's insult.
On Wednesday night, the moderators of the third GOP debate -- CNBC's Carl Quintanilla, Becky Quick and John Harwood -- will try to add a little more gravitas by focusing on what they view as the most important issue in the race: The economy.
"We're going to go a little deeper into detail and specifics," Quick told CNN on the eve of the debate, which airs at 8 pm ET from Boulder, Colorado. "I want to try to pin these candidates down on the specifics of their policies, rather than hearing that they like puppies and apple pie."
Many a moderator has promised to keep things on topic, only to be overridden by candidates who are far more concerned with making a lasting impression on voters. And there is a great deal at stake for each candidate this time around, which is likely to turn CNBC's policy-heavy debate into another contest of egos.
"You'd have to be a fool to not expect fireworks," Quintanilla said. "Just because it's money doesn't mean it's not human."
Related: Democratic debate hits record 15.3 million viewers
Several political strategists told CNN that the candidates are likely to be as preoccupied with applause lines and optics as they are with presenting coherent economic policies. If this cycle's GOP debates have proven anything, it's that theatrics matter.
"The nature of this business is that with progress comes more intense scrutiny. [Marco] Rubio, whose stock has risen, will be in the spotlight on Wednesday, as will [Ben] Carson," David Axelrod, the chief strategist for the Obama presidential campaigns, told CNN. "People will be looking to Trump to see if he has a second act. Fiorina took off after the last debate, but came down as fast as she rose. She has to hope for another boost."
Related: Fox's GOP debate had record 24 million viewers
Dan Pfeiffer, the former senior adviser to Obama, offered a similar take on those candidates' prospects, and added a particularly dire warning for Jeb Bush. The former Florida governor "has the most on the line," Pfeiffer said. "A bad performance could cause the bottom to fall out of his campaign. Bush is in a slightly stronger position than Walker before the last debate, but only slightly."
The must-win attitude going into Wednesday night's debate means the moderators have to be vigilant about keeping candidates on topic. And for months now, Quintanilla, Quick and Harwood have been studying the candidates' policy positions.
"It's been weeks, months of three-hour meetings," Quintanilla said. "I didn't go outdoors all weekend."