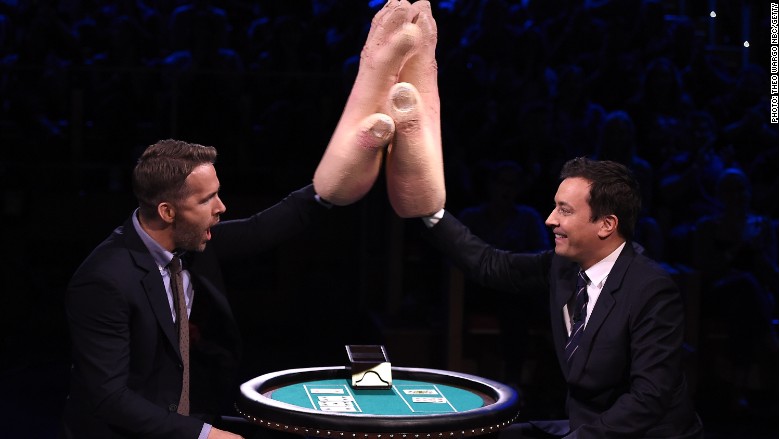 Harry Potter, Jurassic Park... Jimmy Fallon?
"The Tonight Show" host will be getting his very own theme park ride at Universal Studios Orlando, Fallon announced on Tuesday night.
The ride, which is called "Race Through New York Starring Jimmy Fallon," will take guests to Fallon's Studio 6B as they "race against Jimmy" through New York City, NBC said on Wednesday.
"Guests will twist, turn and laugh as they speed through the streets -- and skies -- of The Big Apple -- encountering everything from iconic landmarks to the deepest subway tunnels -- and anything else that comes to Jimmy's mind," the company said.
The ride is expected to open in 2017.
Fallon looks to join other popular attractions at Universal Studios Orlando like the "Jurassic Park River Adventure" and "Harry Potter and the Forbidden Journey."
"You know the Harry Potter rides and all that stuff? It's like that, but instead of Harry Potter it's me," Fallon said Tuesday.
Related: NBC to launch comedy streaming service Seeso
Fallon said that the ride will be "insane" and that its technology might even be 4-D.
"If you really do it right, you could get up to like 8-D," Fallon said laughing.
Fallon is working with Universal to create the ride, he said.
"The best part of the whole thing... on the way out there's a gift shop where you can buy a T-shirt for $200," Fallon joked.
"Race through New York" is the work of corporate synergy seeing that NBC and Universal Studios are both owned by Comcast (CMCSA).
The ride will replace the Universal Studios attraction "Twister... Ride It Out" which closes on November 2.
Fallon has been on a bit of ride himself lately as he has injured himself a number of times over the past few months by falling.
The latest injury came when he tripped and fell at Harvard cutting his hand on a broken bottle.