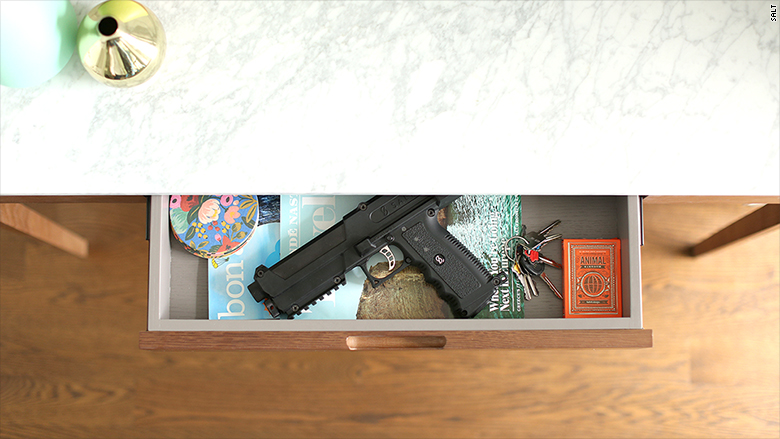 A startup is making a new kind of gun for home defense: one that incapacitates, rather than kills, the intruder.
Salt Supply Co. has designed a paintball-style gun that shoots pellets filled with pepper spray that rupture on impact. The Salt gun is designed to be a safe alternative to traditional firearms so that nobody gets killed, including children who might discover the gun and think it's a toy, or a family member that's mistaken for a burglar.
"We keep it in our nightstand because it's not deadly, you don't have to lock it up," said CEO Adam Kennedy. "You should feel comfortable having this by your bed, because your kid can't kill himself with this."
Kennedy said that he co-founded the startup with his Chicago neighbor Andy McIntosh. Both men travel a lot for work and they don't want to leave their wives alone and defenseless in a neighborhood where shootings are frequent. But their wives didn't want guns in the house. So they came up with Salt.
The $300 handgun is powered by CO2 cartridges and holds seven .70-caliber slugs. They contain ghost pepper extract encased in a ball that breaks on impact like an egg. He said it causes the lungs to constrict, as they would during an asthma attack.
He said the shooter does not have to hit the intruder directly, since every shot releases a five-foot spray of pepper extract.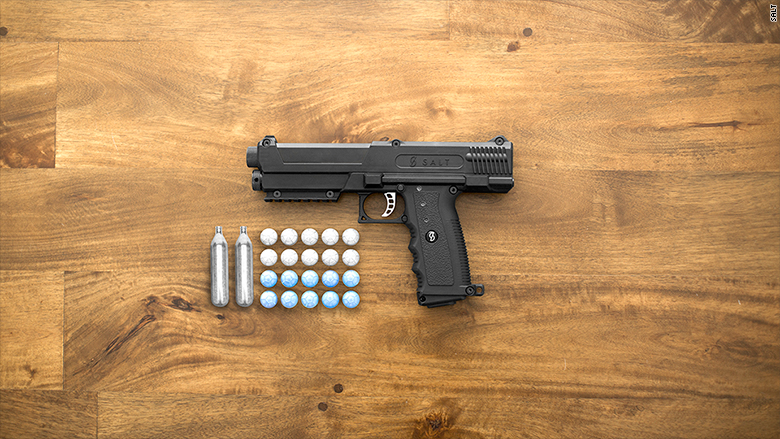 Kennedy said they recruited chemists who used to work for PepperBall, a company that makes a similar product but only supplies it to the military, law enforcement, prisons and private contractors. PepperBall did not return a message from CNNMoney.
Related: What really goes on at a gun show?
Kennedy said the Salt is not considered a gun by the Bureau of Alcohol, Tobacco, Firearms and Explosives. The ATF defines a gun as a device designed "to expel a projectile by the action of an explosive."
Salt doesn't use an "incendiary firing mechanism," said Kennedy. "Instead, the platform of our gun is based on the same technology that powers a paintball gun."
For that reason, buyers don't need to have a background check before they get one.
The startup launched an Indiegogo crowdfunding campaign on Wednesday to raise $75,000 to buy the insurance necessary to bring the gun to market.
Kennedy said they already have a factory in Indiana capable of cranking out thousands of the Salts per month.
And in a move that's unusual for the gun industry, or for any product that bears a resemblance to guns, the ad on Indiegogo features a same-sex couple.
"I really wanted to make this for everyone, not just people who look like they should own a gun," said Kennedy, whose friends appear in the ad.