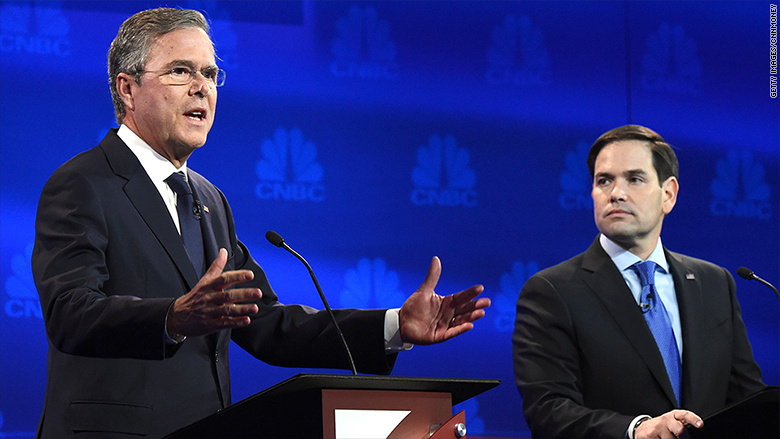 While the moderators of Wednesday night's Republican debate have been roundly criticized here in the United States, Jeb Bush has found himself drawing scrutiny on the other side of the Atlantic.
The former Florida governor went after Marco Rubio for his poor attendance in the Senate with an attack that did not escape the attention of French media.
"The Senate, what is it like a French work week?" Bush said to Rubio. "You get, like, three days where you have to show up?"
The zinger drew a response from the French newspaper The Local, which lamented that the U.S. presidential race had "stoop[ed] to French bashing, again."
"The reality is most French people work more than 35 hours each week, but the cliché has stubbornly remained on the other side of the Atlantic," the paper wrote.
Related: Seething GOP campaigns escalate CNBC grievances
Another paper, Libération, also corrected Bush, citing a figure from Eurostat that full-time workers in France put in an average of 40.7 hours per week.
The Bush campaign brushed off these fact-checks.
"Not too concerned about attacks from the French media," Bush communications director Tim Miller told CNNMoney. "Jeb's working far more than 40 hours a week!"
Related: CNBC's debate draws record 14 million viewers
"French" is a familiar smear in conservative circles. In the 2004 presidential election, Republicans repeatedly taunted John Kerry for being too French-like. And the GOP famously led efforts to change French fries to freedom fries in Capitol Hill cafeterias.
The French press at least seems cognizant of its role as a Republican punching bag.
"In the U.S. there are some references that are thought to be damaging," the French newspaper La Tribune wrote on Thursday. "During the third debate for the Republican primary, Jeb Bush went after his rival Marco Rubio and accused him of having adopted a French-style work rhythm. Meaning: Extremely reduced."