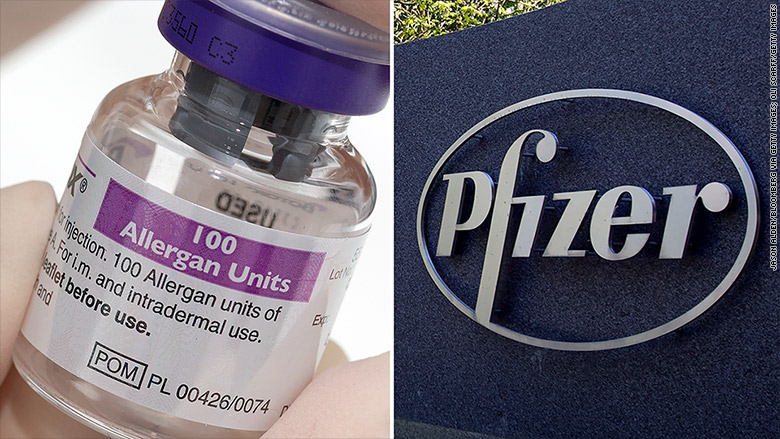 Wall Street is getting excited about a potential takeover deal between drug company Pfizer and Botox-maker Allergan that could be worth well over $100 billion.
Allergan (AGN) confirmed Thursday morning that Pfizer (PFE) approached it about a takeover. It described the talks as "preliminary friendly discussions," and said a deal is not 100% certain.
Shares of Allergan (AGN) gained nearly 6% during trading Thursday, while Pfizer's (PFE) stock dipped 2%.
If a deal is struck in 2015, it could be the year's largest takeover, eclipsing the $117 billion deal between Anheuser-Busch InBev (AHBIF) and SABMiller (SBMRF) in the beer industry. It could also be one of the biggest takeovers of all time, according to data from Dealogic and EY.
Based on Wednesday's market value, before takeover talk began swirling, Allergan was worth well over $110 billion.
Pfizer has a market value around $220 billion.
As it stands now, Johnson & Johnson (JNJ) is the largest pharma company in the world by market value, according to EY data. But if Pfizer acquires Allergen, it could launch the combined company into the top spot.
It's all about tax?
In 2014, Pfizer pursued a takeover of the British pharmaceutical company AstraZeneca (AZN). But the American drugmaker had to drop its bid after AstraZeneca's board repeatedly said the offers were not sufficient.
One factor driving Pfizer to pursue a takeover was related to taxes. Pfizer hoped to move its corporate base from the U.S. to the U.K., allowing it to pay British tax rates and save $1.4 billion annually, according to some analyst estimates.
So it's no surprise to see that Pfizer is now chasing Allergan, which is based in Ireland, a country that is known for low corporate taxes.