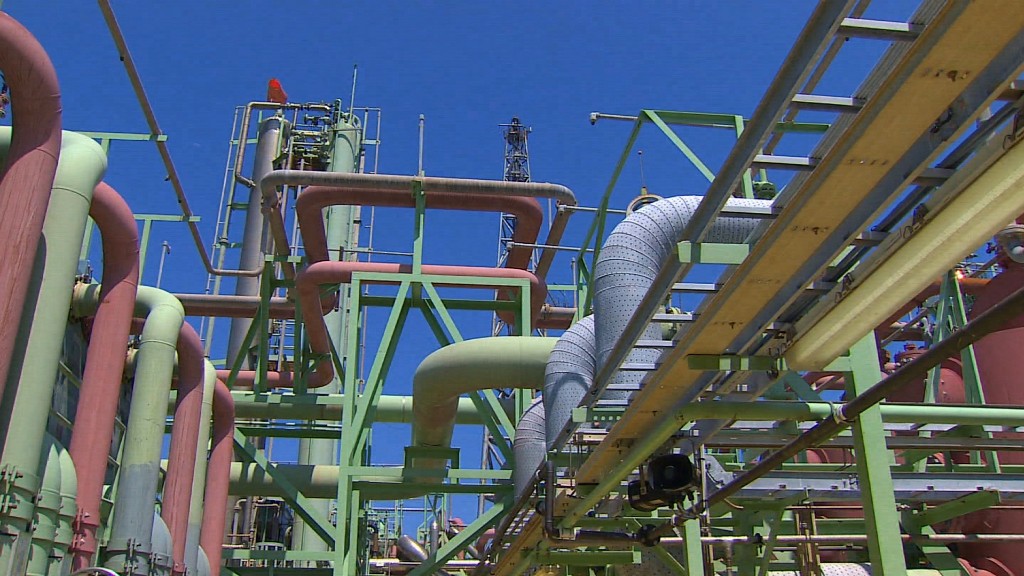 Venezuela is running out of money fast and has started selling its gold.
The cash-strapped country could default by next year when lots of debt payments are due. Venezuela's reserves, which are mostly made up of gold, have fallen sharply this year as the country needs cash to pay off debt and tries to maintain its social welfare programs.
Venezuela owes about $15.8 billion in debt payments between now and the end of 2016.
But it doesn't have enough to make good on its payments. Venezuela only has $15.2 billion in foreign reserves -- the lowest amount since 2003. A lot of those reserves are in gold.
Less than $1 billion of Venezuela's reserves are in cash, and it has a couple billion in reserves at the IMF.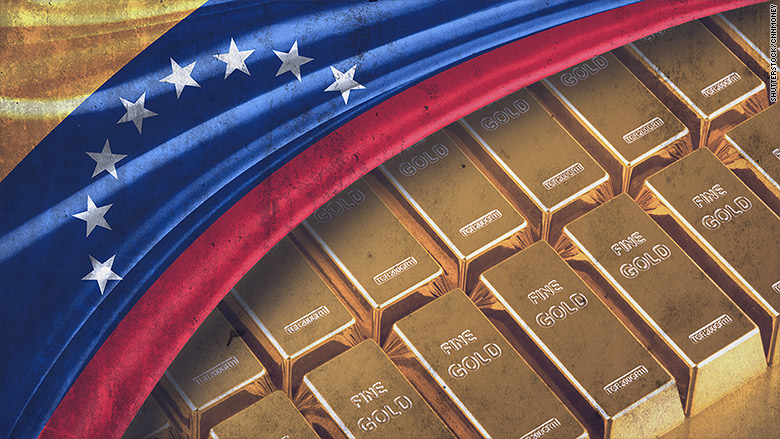 Its government won't say how much gold it currently has. In May, Venezuela had $11.7 billion -- nearly 70% -- of its reserves in gold and it was fast dwindling. In February, it had $14 billion in gold reserves. Both these figures are from the most recent government data.
"It'll have to sell some of its gold reserves to make the debt payments," says Edward Glossop, emerging markets economist at Capital Economics. "[Cash] reserves are almost virtually zero."
Related: Pepsi has a Venezuela problem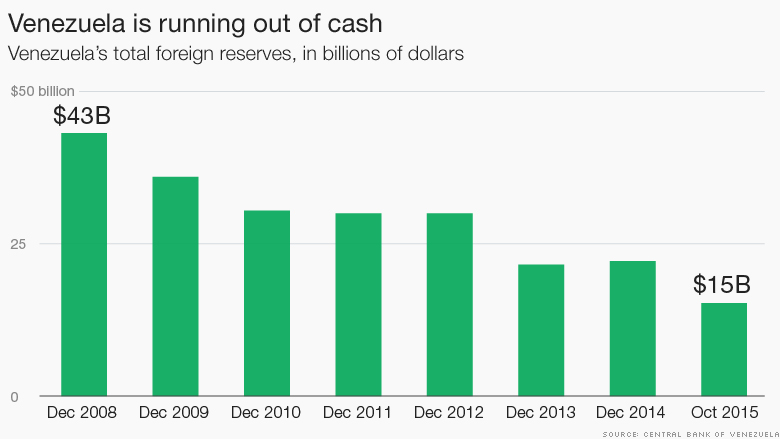 Venezuela overwhelmingly relies on oil to drive its economy and pay its debts. But with oil prices still low, Venezuela is making little on its oil sales. It has no choice but to dive into its gold reserves to pay some of its bills, experts say.
It's another sign that Venezuela -- despite having the world's largest oil reserves -- could be the worst economy on the planet now. Its currency has plummeted, inflation has skyrocketed over 100% and it can't pay for basic imports like french fries or even napkins. Venezuela's economy is expected to shrink 10% this year, according to the IMF.
Related: Venezuela's currency is worth less than a napkin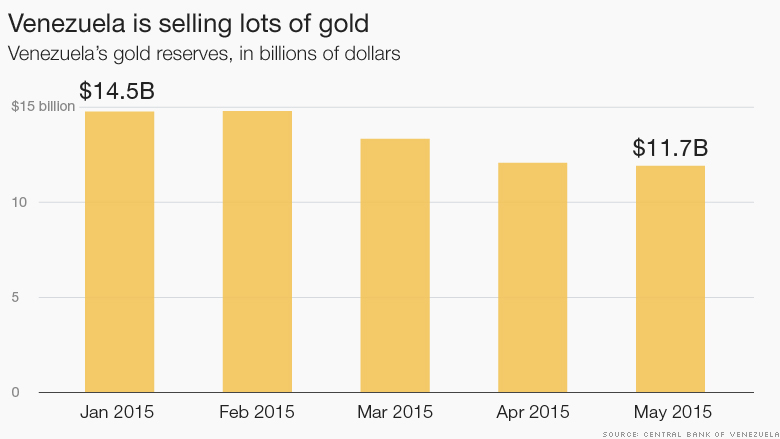 Meanwhile its government, led by President Nicolas Maduro, continues to ramp up public spending to beef up pensions, subsidize grocery stores and provide free health care. Those policies are nearly impossible to maintain when oil prices plummet.
"The bottom line is that the spending is unsustainable with oil below $50 and needs to be reined in," says Win Thin, global head of emerging markets at Brown Brothers Harriman. Thin believes Venezuela will eventually cut spending to avoid default, but he points out that financial markets overall are predicting a default.
You might think the rest of Venezuela's reserves are all in cash. But they're not. After its gold reserves, its backup fund of $2.3 billion is with the IMF, leaving Venezuela with a paltry sum of actual cash reserves, now under $1 billion.
Experts say there are two possible lifesavers for Venezuela now:
(1) A rally in oil prices could help Venezuela get more money in its coffers. But that's not looking too likely in the short-term.
(2) China or Russia, its key allies, can volunteer to pay its debts. But Russia has its own economic problems and appears unlikely to bail out Venezuela, experts say. China did give Venezuela billions last year, and it could come to the rescue again. But relying on China at a time when its own economy is slowing is unsustainable, experts say.
Related: China's chess move against U.S.:Latin America
"It's likely that they get some financing from China," says Alejandro Arreaza, an economist at Barclays, who is from Venezuela.
If anything, some say that the falling reserves are just another example of how poorly mismanaged Venezuela is under Maduro.
"What kind of government does it take to bring a country with the largest oil reserves in the world to the brink of bankruptcy?" says Russ Dallen, managing partner at LatInvest, a Miami-based firm that invests in Venezuela.