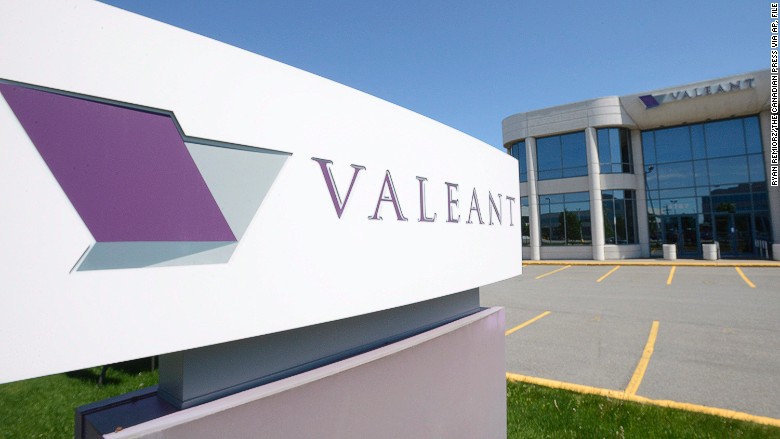 Drugmaker Valeant Pharmaceuticals is in crisis mode -- it's closing the shadowy pharmacy that's at the center of a controversy, hired a fancy lawyer and has a top hedge fund manager defending it.
Valeant (VRX) on Friday said it has severed ties with the pharmacy Philidor which "will shut down operations as soon as possible."
The relationship between the two entities has always been murky.
Short sellers claim Valeant is using Philidor to generate "phantom sales" -- claims which Valeant has denied.
Valeant had also disclosed that it had paid $100 million last year for an option to purchase Philidor.
Philidor represented 6.8% of Valeant's total revenue in the third quarter.
In the press release announcing Philidor's closure, Valeant spoke of the company as if it were a separate operation.
"The newest allegations about activities at Philidor raise additional questions about the company's business practices," said Valeant CEO J. Michael Pearson. "We have lost confidence in Philidor's ability to continue to operate in a manner that is acceptable to Valeant and the patients and doctors we serve."
Related: Valeant denies Enron-like fraud
The decision came after CVS (CVS), currently the nation's largest pharmacy chain, said it would stop using Philidor.
On Friday, Valeant also said it has hired former U.S. Deputy Attorney General Mark Filip from the lawfirm Kirkland & Ellis. Filip will advise a committee that is looking into the relationship between Valeant and Philidor.
The brouhaha started with a report from Citron Research, a short-selling firm that actively bets against stocks and publishes negative research on companies. The report from earlier this month alleged that Valeant created a network of phony pharmacies to avoid scrutiny from auditors.
It specifically accused Valeant of hiding improper relationships with Philidor and R&O Pharmacy, which were used to distribute the company's drugs.
Citron compared Valeant to Enron, the energy company that filed for bankruptcy in 2001 amid massive accounting fraud.
On Monday, more than a dozen senior Valeant executives and directors held a 75-minute conference call aimed at quelling the panic caused by Citron.
At the time, Pearson called charges made by Citron "completely untrue." The research firm says it will issue a new report on Valeant Monday.
On Friday, one of Valeant's largest shareholders William Ackman, who heads the hedge fund Pershing Square Capital Management, also held an investor call where he vigorously defended the company.
Ackman tried to convince Wall Street that this is a buying opportunity. He even invoked Warren Buffett's purchase of American Express (AXP) stock at a bargain basement price back in 1963 after it tanked in the wake of a loan scandal. That turned out to be a great investment for Buffett.
However, investors weren't that convinced. Valeant shares were off nearly 10% Friday. The market value of the company has fallen by $11 billion since the Citron report first came out last week.
-- Matt Egan and Paul LaMonica contributed to this report.